Network:

ABC

Series Premiere Date:

Sep 30, 2009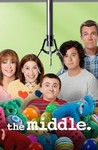 Please enter your birth date to watch this video:
You are not allowed to view this material at this time.
The writers have great ears for "real" dialogue, and, in fact, not a single line here feels like a dead ball. The characters, too, arrive fully formed and believable. First impressions are absolutely vital in TV, and The Middle makes an excellent one.

A lively show with no canned laughter, where love has no chance to conquer all the family deficiencies but does make them not only bearable, but fun.

This one has more heart and is a better fit with its primetime neighbors.

It's a solid meat-and-potatoes family comedy; next to "Hank," it's the next "Malcolm in the Middle."

I am not yet ready to say The Middle is a great sitcom, but it sure seems in synch with the mood of middle America today.

It's hard to know where The Middle will go after tonight's decent pilot. And that's part of the sitcom's promise, that it has the potential to blossom into a sweet if small celebration of a family of oddballs living distinctly unhip lives.

The Middle feels like a sitcom version of standup comedy. "Three guys and two girls walk into Indiana..."It's not offensive. Just superfluous.
This show is great. It is always funny. The cast has great chemistry. They are just a working family with three very different kids. They are

This show is great. It is always funny. The cast has great chemistry. They are just a working family with three very different kids. They are such a likable family that a lot of people can relate to.

…

Expand

This show is is very funny. It is always funny. The cast has great chemistry. One of the best comedy series, is much better than "Modern

This show is is very funny. It is always funny. The cast has great chemistry. One of the best comedy series, is much better than "Modern Family". Deserves to win the Emmy for best comedy series.

…

Expand

I really like this show and watch it every wednesday, I would like to see more episodes surrounding the daughter, anyway, it;s good to see a

I really like this show and watch it every wednesday, I would like to see more episodes surrounding the daughter, anyway, it;s good to see a situation comedy revolving around families once again

…

Expand

I cracked up.It was good to laugh.

Now this is how to make a brilliant sitcom. For me the best sitcom the USA has produced since The Simpsons I haven't seen season 1 for about

Now this is how to make a brilliant sitcom. For me the best sitcom the USA has produced since The Simpsons I haven't seen season 1 for about four years but Comedy Central in the UK had started airing the show from the beginning to get people ready for season 8 and I realised watching season 1 back how enjoyable it truly was.

…

Expand

The first season of The Middle is just okay. Okay writing, okay acting, and okay characters.

Best Episode: Pilot 7/10 Worst Episode: TheThe first season of The Middle is just okay. Okay writing, okay acting, and okay characters.

Best Episode: Pilot 7/10
Worst Episode: The Front Door 4/10

…

Expand