Network:

CBS

Series Premiere Date:

Oct 3, 2013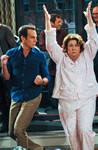 Starring:

Beau Bridges

,

JB Smoove

,

Will Arnett

Summary:

Will Arnett stars as a newly divorced reporter whose single life is quickly upended when his feuding parents decide to follow his lead and separate. His mother (Margo Martindale) moves in with him, while his father (Beau Bridges) crashes with his sister (Jayma Mays). The comedy comes from

Will Arnett stars as a newly divorced reporter whose single life is quickly upended when his feuding parents decide to follow his lead and separate. His mother (Margo Martindale) moves in with him, while his father (Beau Bridges) crashes with his sister (Jayma Mays). The comedy comes from Greg Garcia (My Name Is Earl, Raising Hope).

…

Expand

Genre(s):

Comedy
Creator:

Greg Garcia

Season 1 premiere date:

Oct 3, 2013

Episode Length:

30
Please enter your birth date to watch this video:
You are not allowed to view this material at this time.
The Millers shows what a thing of glory hear-the-laughs sitcomedy can be in the hands of masters.

The Millers won't be confused with highbrow entertainment but taken on its own terms and thanks to a talented trio of cast members, it's a welcome addition to CBS's Thursday night comedy block.

The humor is driven mostly by a relentless slapstick vulgarity, particularly concerning the flatulence and sex habits of parents. If you've got a high tolerance for those sorts of jokes, it is funny indeed.

The show has its moments, but almost all of them belong to Martindale.

There's too much talent involved to write off The Millers completely, but it's one of those pilots only a mother--or at least, close friends and family--could genuinely love.

The first half-hour of The Millers is so banal, it's just sad. There's no promise lurking anywhere in the setup, nothing that could get better and become more central as the writers find the show's voice.

The question is, who's laughing? Worth asking along with the aforementioned curiosity about what the programmers were thinking, not only about this mother but all the rest of this unutterably mirthless enterprise--the dim-witted father (Beau Bridges), too stupid to use a telephone properly, included.
The Millers is the new "All in the Family" show this season with the best assembly of actors, period! Every new show needs "wiggle room".

The Millers is the new "All in the Family" show this season with the best assembly of actors, period! Every new show needs "wiggle room". Love the show and can't wait to see the next episode, "Mom on dating site".

…

Expand

This is the funniest show on TV. I laugh out loud at every episode. The critics have obviously not given it a chance. It is every bit as funny

This is the funniest show on TV. I laugh out loud at every episode. The critics have obviously not given it a chance. It is every bit as funny as The Big Bang in its early years.

…

Expand

I thought it was hilarious! Very funny and love the concept! My husband and I laughed out loud over and over. We will definitely stay tuned. I

I thought it was hilarious! Very funny and love the concept! My husband and I laughed out loud over and over. We will definitely stay tuned. I hope it makes it because I plan on watching it for years. Love Will Arnett and the parents are perfect. Great casting!

…

Expand

This show is not that bad, it is just nothing special. After watching the first episode I was entertained, just did not feel drawn to watching

This show is not that bad, it is just nothing special. After watching the first episode I was entertained, just did not feel drawn to watching the next episode.

…

Expand

I have never seen the quality of a series deteriorate so quickly from episode one to episode two.

I am amazed at the magnitude of the wrongI have never seen the quality of a series deteriorate so quickly from episode one to episode two.

I am amazed at the magnitude of the wrong turn that the writers have taken with this show. There was so much possibility, so many paths that could have been taken.

But the path chosen was among the worst.

I ponder what CBS will use to fill this time slot in February? *More* reruns of TBBT? Is CBS determined to run that series into the ground?

Time will tell.

…

Expand

Unwatchable, who did the casting here? Margo Martindale and Will Arnett zero chemistry. Margo Martindale and Beau Bridges he's still too

Unwatchable, who did the casting here? Margo Martindale and Will Arnett zero chemistry. Margo Martindale and Beau Bridges he's still too cute at his age, no one gets why he would have married that frump in real life or TV life. I can't stand that actress and have nevero liked or laughed at anything she's said or done at any rate. Get rid of Margo Martindale, bring Will Arnett forward in character, without her loud mouthed presence drowning his trademark charming sarcastic mojo. The Stepford cutie trying to be his obsequious comical sister and her frighteningly non-descript husband are just drying wallpaper (do they have kids, I can't even remember) and ALSO, they have no chemistry with the rest of this sinking crew. Will Arnett is too strong as a subtle comedian, and therefore the ill-suited casting around him doesn't support it. How could anyone believe these people are related, they look like a mish mash of people that went to a housewarming from different regions of a city and were told 'try to act in this clunker comedy as a family, just MAKE IT WORK please'. Put Will in something better, he's a superstar. I'd watch the satire comedy 'Go to Prison' starring Will 500 times in a row over 10 minutes of this drek. Get Beau something better too, he's still too handsome and strong to be relegated to tired old man roles. Give him a break.

…

Expand

Oh. My. God. Cancel this show now! This is a disgrace to Television history.. what on earth were CBS directors thinking giving this a green

Oh. My. God. Cancel this show now! This is a disgrace to Television history.. what on earth were CBS directors thinking giving this a green lit..... awful just awful

…

Expand