Carol's Parents Are Coming to Town

Please enter your birth date to watch this video:

You are not allowed to view this material at this time.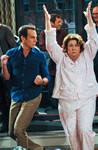 Episode Details & Credits
CBS |
Air Date:
December 12, 2013
Summary:
Carol has to reveal she never told her parents about the divorces in her family when they announce their visit for Christmas. Unwilling to te,, them the truth, Carol asks everyone to play happy family for her parents.
Seasons & Episodes
Season 2

Season 1

Season 1 Overview

Air Date: October 3, 2013

S1:E23. Mother's Day

Air Date: May 15, 2014

S1:E22. Sex Ed Dolan

Air Date: May 8, 2014

S1:E21. 0072

Air Date: May 1, 2014

S1:E20. Tomlandia

Air Date: April 24, 2014

S1:E19. Cancellation Fee

Air Date: April 10, 2014

S1:E18. Walk-n-Wave

Air Date: April 3, 2014

S1:E17. Plus One

Air Date: March 13, 2014

S1:E16. Bahama Mama

Air Date: March 6, 2014

S1:E15. You Betcha

Air Date: February 27, 2014

S1:E14. Carol's Surprise

Air Date: February 6, 2014

S1:E13. Driving Miss Crazy

Air Date: January 30, 2014

S1:E12. Miller's Mind

Air Date: January 9, 2014

S1:E11. Dear Diary

Air Date: January 2, 2014

S1:E10. Carol's Parents Are Coming to Town

Air Date: December 12, 2013

S1:E9. You're in Trouble

Air Date: December 5, 2013

S1:E8. Internet Dating

Air Date: November 21, 2013

S1:E7. The Talk

Air Date: November 14, 2013

S1:E6. Stuff

Air Date: November 7, 2013

S1:E5. Giving the Bird

Air Date: October 31, 2013

S1:E4. The Mother Is In

Air Date: October 24, 2013

S1:E3. The Phone Upgrade

Air Date: October 17, 2013

S1:E2. Plot Twists

Air Date: October 10, 2013

S1:E1. Pilot

Air Date: October 3, 2013