Please enter your birth date to watch this video:

You are not allowed to view this material at this time.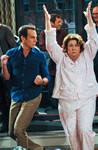 Episode Details & Credits
CBS |
Air Date:
January 9, 2014
Summary:
Nathan gets his own news segment to complain after using his mother's incessant rants. When he starts irritating Carol on purpose, things get out of hand quickly.
Seasons & Episodes
Season 2

Season 1

Season 1 Overview

Air Date: October 3, 2013

S1:E23. Mother's Day

Air Date: May 15, 2014

S1:E22. Sex Ed Dolan

Air Date: May 8, 2014

S1:E21. 0072

Air Date: May 1, 2014

S1:E20. Tomlandia

Air Date: April 24, 2014

S1:E19. Cancellation Fee

Air Date: April 10, 2014

S1:E18. Walk-n-Wave

Air Date: April 3, 2014

S1:E17. Plus One

Air Date: March 13, 2014

S1:E16. Bahama Mama

Air Date: March 6, 2014

S1:E15. You Betcha

Air Date: February 27, 2014

S1:E14. Carol's Surprise

Air Date: February 6, 2014

S1:E13. Driving Miss Crazy

Air Date: January 30, 2014

S1:E12. Miller's Mind

Air Date: January 9, 2014

S1:E11. Dear Diary

Air Date: January 2, 2014

S1:E10. Carol's Parents Are Coming to Town

Air Date: December 12, 2013

S1:E9. You're in Trouble

Air Date: December 5, 2013

S1:E8. Internet Dating

Air Date: November 21, 2013

S1:E7. The Talk

Air Date: November 14, 2013

S1:E6. Stuff

Air Date: November 7, 2013

S1:E5. Giving the Bird

Air Date: October 31, 2013

S1:E4. The Mother Is In

Air Date: October 24, 2013

S1:E3. The Phone Upgrade

Air Date: October 17, 2013

S1:E2. Plot Twists

Air Date: October 10, 2013

S1:E1. Pilot

Air Date: October 3, 2013