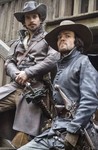 Starring:

Santiago Cabrera

,

Hugo Speer

,

Peter Capaldi

Summary:

The latest adaptation of Alexander Dumas' classic novel follows the adventures of D'Artagnon (Luke Pasqualino), Athos (Tom Burke), Aramis (Santiago Cabrera) and Porthos (Howard Charles) as Cardinal Richelieu (Peter Capaldi) seeks more power and control.

Genre(s):

Drama

,

Action & Adventure
Creator:

Adrian Hodges

Season 1 premiere date:

Jun 22, 2014

Episode Length:

60
Please enter your birth date to watch this video:
You are not allowed to view this material at this time.
A well-acted romp that carries just enough weight to justify tuning in, The Musketeers is a campy delight; no one ever hands over a blade when tossing one with a flourish will do, and this time, that's just as it should be.

While the series is not without humor--including the occasional sexual witticism--it is never camp, a huge plus for devotees of genuine drama.

Refreshingly realistic in some ways (there is much jumping out of high windows, but the jumper is often actually injured) and soothingly romantic in others, "The Musketeers" is a captivating balance of spectacle and story, true enough to the essentials of the original, modern enough to understand the necessity of humor and self-reference.

It's a little cheesy, but never takes itself very seriously.

This lighthearted, thin import is worth a watch. [20 Jun 2014, p.60]

Hodges has done a good job weaving new plot twists and characters into the familiar story. The Musketeers may not be either the greatest treatment of the Dumas tale or the most revolutionary, but it is fun for all, and all for fun.
Capaldi definitely carries the show in the earlier episodes but as the season progresses, The rest of the cast come into their own and become

Capaldi definitely carries the show in the earlier episodes but as the season progresses, The rest of the cast come into their own and become rather likable. Easily one of the better new shows to come out and definitely worth watching.

…

Expand

Having watched every Musketeers adaptation I could get my hands on, I can say this tale have enough new content and changes to keep you

Having watched every Musketeers adaptation I could get my hands on, I can say this tale have enough new content and changes to keep you interested while respecting the source maetrial. The only thing I miss are bigger names on the cast. BBC rarely does a bad series, and this one keeps the tradition.

…

Expand

For a show that has taken an exceptional care to recreate the costumes and streets of the XVII century; gun power muskets have unrealistic eye

For a show that has taken an exceptional care to recreate the costumes and streets of the XVII century; gun power muskets have unrealistic eye accuracy and sound like modern rifles, while single shot pistols are actually colt .45 revolvers, and the royal musketeers dress like wandering cowboys. Sometimes I am confused if I am watching a Western. The script is nothing exceptional, but, we can still enjoy one of the best portraits of Cardinal Richelieu with Peter Capaldi.

…

Expand

very predictable. good guy always wins and the bad guy always dies. there i saved you lots of wasted time . Seriously tho, you can watch the

very predictable. good guy always wins and the bad guy always dies. there i saved you lots of wasted time . Seriously tho, you can watch the first 10 mins and the last 15 and still know exactly whats going on..

…

Expand

Biggest pile of feces anybody could possibly watch, another BBC handout of utter """""""""

Do you notice how the Musketeers upon theirBiggest pile of feces anybody could possibly watch, another BBC handout of utter """""""""

Do you notice how the Musketeers upon their costumes do not even have a cross on their blue uniforms the most distinguishable feature of their historic period uniform. Discounting! Whatever other attempts have been made at the notion of political correctness, in bids to mass appeal to every single type of audience, rather then actually get those historic settings correct. OH No, nobody else requires actual history. Without setting themselves into the pictures shown. Much better to attempt at romancing utter fictitious codswallop because this will generate numbers.

Cancel this crap show already!

…

Expand