Network:

HBO

Series Premiere Date:

Jun 24, 2012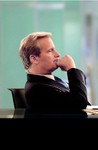 Starring:

Sam Waterston

,

Alison Pill

,

Olivia Munn

Summary:

Aaron Sorkin's latest drama is set at a fictional cable news channel where anchor Will McAvoy (Jeff Daniels) leads a group of reporters and staff striving to make a hard-hitting news program.

Genre(s):

Drama
Creator:

Aaron Sorkin

Season 1 premiere date:

Jun 24, 2012

Episode Length:

60
I'd rather spend time with an edgy show that aims high and sometimes falls short, than one that doesn't.... Welcome back, Mr. Sorkin. It's a pleasure to have you.

Fans of Sorkin's work, especially his previous shows "Sports Night," "The West Wing," and "Studio 60 on the Sunset Strip," will be pleased to see The Newsroom has all the hallmarks of its predecessors.

What works about the show outweighs what doesn't, but others will read the results differently.

The Newsroom essentially presents viewers with two options: Lament how the series doesn't match the lofty crests of Sorkin's finest work, or admire the show's ambitions and embrace of serious ideas, and grudgingly roll with its uneven tides.

The series is kind of a mess, but one you can't really look away from.

The Newsroom is convincing as a faux newscast. It's less convincing as good television.

Monstrously misconceived and incompetently executed, powered by a high-octane blend of arrogance and contempt, The Newsroom is an epochal failure, a program destined for television's all-time What Were They Thinking? list. Not since NASA's first Vanguard rocket blew up on its launch pad in 1957 will Americans have seen anything crash and burn on television with such hellish spectacularity.
This could be the best show I have seen in a long long time. A lot of the critics reviews make me angry, they have to remember that it's a

This could be the best show I have seen in a long long time. A lot of the critics reviews make me angry, they have to remember that it's a television show and to stop taking it so personally. I applaud HBO for sticking with Aaron Sorkin to make this happen. Television is supposed to be entertaining, if it was supposed to be real, we'd just be watching CNBC or CNN. Be sure to watch and judge this amazing show on your own, not from the eyes of a journalist that is comparing it to their own life and work. I can't wait for this season to unfold!

…

Expand

Incredible show. One of the best that I have seen for a very long time. The fact that they are using real events as a backdrop to the show

Incredible show. One of the best that I have seen for a very long time. The fact that they are using real events as a backdrop to the show is a stroke of genius. If you want to see a brilliantly written show, with characters that you can invest in, then look no further.

…

Expand

After reading the reviews of pretentious journalist from main written media outlets like the NY Times and Wallstreet, I love the show even

After reading the reviews of pretentious journalist from main written media outlets like the NY Times and Wallstreet, I love the show even more. It has depth, comedy, and is one of the most thought provoking cable programs I've seen in a long time. Bravo.

…

Expand

The opening sequence in which McEvoy (Jeff Daniels) reveals his dismay about the state of modern American was the most stirring opening

The opening sequence in which McEvoy (Jeff Daniels) reveals his dismay about the state of modern American was the most stirring opening monologue for any television show in recent memory. The rest of the episode dwelt too long on a dysfunctional boy-girl relationship between two staffers and the willingness of McEvoy to sacrifice millions of dollars in salary to get the right to fire his newly-hired executive producer. In addition, Sorkin should recognize that comedy isn't his strong suit and refrain from the urge to inject comedic elements that don't work (as demonstrated painfully in the failed series "Studio 60 on the Sunset Strip"). Nevertheless, the show compares favorably with the BBC's "The Hour", but is more relevant for contemporary America.

…

Expand

After making a point in the first episode of being a game changer, this show devolves into a show that exists to boost the egos of its

After making a point in the first episode of being a game changer, this show devolves into a show that exists to boost the egos of its creators and squeezes in cheesy romanticism at every corner. I watched this show with high hopes, expecting it to be about what was promised-- a news station that actually covers news objectively, without worrying about ratings, popularity, and money. Instead, this show hit every episode continually with a "news suck, but we are better than everyone else" and as many annoying romantic (unromantically attempting to be romantic) relationships as possible. This show represents exactly what it dooms.

…

Expand

I could only take one and a half episodes. The snappy dialogue from the team and the pure arrogance of the main character were appalling. The

I could only take one and a half episodes. The snappy dialogue from the team and the pure arrogance of the main character were appalling. The issues are a little dated and should be more current. Who cares what happened a year ago? I will not watch another episode.

…

Expand