Network:

NBC

Series Premiere Date:

May 27, 2014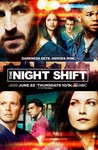 Starring:

Daniella Alonso

,

Brendan Fehr

,

Freddy Rodriguez

Summary:

The medical drama follows the night shift at San Antonio Memorial that includes manager Michael Ragosa (Freddy Rodriguez), Afghanistan veteran Dr. TC Callahan (Eoin Macken), Dr. Jordan Alexander (Jill Flint), Dr. Topher Zia (Ken Leung), Dr. Drew Alister (Brendan Fehr), Dr. Landry de la Cruz

The medical drama follows the night shift at San Antonio Memorial that includes manager Michael Ragosa (Freddy Rodriguez), Afghanistan veteran Dr. TC Callahan (Eoin Macken), Dr. Jordan Alexander (Jill Flint), Dr. Topher Zia (Ken Leung), Dr. Drew Alister (Brendan Fehr), Dr. Landry de la Cruz (Daniella Alonso), resident Paul Cummings (Robert Bailey Jr.), nurse Kenny (JR Lemon), and intern Krista (Jeananne Goossen).

…

Expand

Genre(s):

Comedy

,

Drama
Please enter your birth date to watch this video:
You are not allowed to view this material at this time.
They are quirky--cookie-cutter quirky. But for summer TV drama, that's not the worst they could be.

Night Shift doesn't really have another gear, but it refuses to go full Grey's Anatomy and ramp up the sexy complications so much that it attains the lift off of fun melodrama.

Both ["Undateable" and The Night Shift] are NBC series serving as spring-summer filler, adequate at what they do but not worth scheduling your life around.

Shift is competent but useful mostly as a reminder to stay healthy at all costs and avoid this sort of place. [9 Jun 2014, p.34]

Not surprisingly, the producers assemble a sizable, attractive and appropriately diverse cast, albeit without giving many of them much to distinguish their characters, who--whatever the color of their scrubs--simply blend together.

The action may be as fast and persistent as a gurney on the way to an operating theater, but nothing can hide the wobbly scripting and weak characters it's all riding on

It's hard to imagine any other reason for NBC to go ahead with a noisy, unwatchable show like Night Shift except to fill holes in its schedule.
I don't watch shows on the regular channels, e.g.-channels 2,4,7, etc. I saw the preview for the night shift and it seemed interesting. I

I don't watch shows on the regular channels, e.g.-channels 2,4,7, etc. I saw the preview for the night shift and it seemed interesting. I love this show. It gives me goosebumps. I make sure I am home, sitting down, and have whatever I need for the next hour, because no matter what, I am not leaving the t.v. Until the show is over. It is that good. It's not like greys anatomy because I couldn't stand that show. This show can be so intense and make you feel the emotion like you are there, it's the only show that ever made me jump out of my seat and yell at the t.v. It makes me laugh like I haven't laughed in years. I forget lots of things, where my keys are, what I am doing tomorrow, but I never forget that Tuesday at 10 pm the night shift is on. I wait all week for Tuesdays now, it's my new favorite day of the week, forget Saturdays, Tuesday is where it's at now. :)

…

Expand

This show is great. If you like medical dramas, this one is a great one. Compelling story lines and great actors. I'm looking forward to

This show is great. If you like medical dramas, this one is a great one. Compelling story lines and great actors. I'm looking forward to the rest of the season.

…

Expand

I'm hooked! This show has such amazing writing, acting, directing, etc..., an all around awesome series. If you're interested in veterans,

I'm hooked! This show has such amazing writing, acting, directing, etc..., an all around awesome series. If you're interested in veterans, army medics, interns, and intense or funny medical situations ranging from an old person with an STD to a bus load of rangers getting in a serious bus accident, then this show is for you! And of course it offers the love triangle, I'm rooting for T and Jordan!. I look forward to every episode and hope the show does well and is renewed for a season 2.

…

Expand

It was interesting, with interesting characters (even if they're all very pretty). About time for a new medical show set in the ER -- it's

It was interesting, with interesting characters (even if they're all very pretty). About time for a new medical show set in the ER -- it's been too long. Looking forward to this.

…

Expand

This show is nothing amazing, but with a lack of other medical dramas out there it fills a niche that would be otherwise empty. It does a

This show is nothing amazing, but with a lack of other medical dramas out there it fills a niche that would be otherwise empty. It does a good job of it too, but like I said it's nothing amazing. Writing is acceptable, characters are a bit cliche but not too cliche, medical stuff is overly detailed and icky.

It's a hasty clone of ER, in other words, and despite the different setting it has yet to do much to differentiate itself from that show. Still, not a bad watch. The first season was entertaining enough. If they capitalize more on the uniqueness of the location and the cast in the second season then it might stay on the air for a while.

…

Expand

Lame, lame, lame. This is a weak very poorly written one hour situation comedy posing as a medical show. The acting is generally poor. I

Lame, lame, lame. This is a weak very poorly written one hour situation comedy posing as a medical show. The acting is generally poor. I give one exception to the guy who plays Dr. Topher. His lines aren't much, but he is a demonstrably good actor. Without going on at length about this incredible waste of time, I must comment on how scary it would be to be a patient in this Emergency Room where the doctors and staff are whooping it up in their parking lot party place or delivering pseudo funny lines in the hallways.

This week there was a scene of a totally full waiting room with the hospital administrator dancing around under the accidental influence of Ecstasy. What did his "staff" do about this? They gathered outside of the waiting room, toking cell phone pictures and just laughing and laughing. I'm glad someone is having a good time at this hospital. I'm with the long-suffering patients.

…

Expand

Lame Grey's rip off with no relationship to how doctors really behave. Truly stupid. This is a close cousin to Rookie Blue, another

Lame Grey's rip off with no relationship to how doctors really behave. Truly stupid. This is a close cousin to Rookie Blue, another pandering show desperately seeking the 18-49 eyeballs.

…

Expand