Network:

BET

Series Premiere Date:

Oct 12, 2017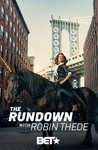 Summary:

Former head writer for The Nightly Show With Larry Wilmore, Robin Thede joins the late-night talk show line-up with her weekly 30-minutes series.

Genre(s):

Comedy

,

Talk & Interview
Season 1 premiere date:

Oct 12, 2017

Episode Length:

30
Her reactions are sharp and GIF-able. The segments are compact and informational; ready to be consumed in your news feed the next day. Instead of feeling like a desperate reach at relevance, it feels realistic.

It isn't just the only late-night show of its kind hosted by an African American woman. It's also just funny. The writing is good and Thede's delivery is high energy and she's already the most stylish host in the space, not that that's necessarily important either.

Thede has a kinetic delivery; she strolled onstage to roll through a titular "Rundown" that was one joke piled on top another. Not everything landed, though perhaps some people will never tire of "YOU GET A CAR!" Oprah references. What struck you was the mix of topics and approaches.

As with most premieres, this first episode is a little overstuffed. ... But where The Nightly Show had trouble balancing its monologue with its roundtable discussion with its sporadic correspondent interviews, The Rundown mostly manages to streamline its material via a couple of calculated format decisions that work in the show's favor.