Network:

CNN

Series Premiere Date:

May 29, 2014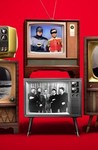 Summary:

The ten-part documentary series executive produced by Tom Hanks, Gary Goetzman and Mark Herzog covers cultural and historical events that shaped the 1960s with interviews and clips.

Genre(s):

News/Documentary

,

Documentary

,

Educational
Season 1 premiere date:

May 29, 2014
Please enter your birth date to watch this video:
You are not allowed to view this material at this time.
Hanks himself book-ends this serviceable, talking heads/illustrative clips treatise with a pair of all-encompassing quotes.

This is a comfort-food smorgasbord for the Woodstock generation, a harking back to that vision of ourselves as a nation with shared ideals and values.

Respectable, incomplete survey (on TV) Thursday night, but future installments look better.

At its best The Sixties is admirable, but to riff on an old promotional slogan, it isn't all that it could be: Yes, it's an exercise that might capture the magic of landing on the moon, but doesn't take the extra step that would send viewers over it.

Pperhaps as a result of that mission, The Sixties often feels like an academic project, something for a modern history class.

The historical documentaries are more successful than the cultural ones, for having a better story to tell, but all are made in a similar style, without written narration, driven by news clips and interviews (with scholars, participants and celebrity rememberers, Hanks naturally included).
Many will pan The Sixties for having no script and being a series entirely pushed along by clips of actual footage from the events presented.

Many will pan The Sixties for having no script and being a series entirely pushed along by clips of actual footage from the events presented. I personally can't understand how that is a bad thing. As a twenty-year-old, I find the show exceptionally fascinating from beginning to end. Using actual video footage to show these events, as well as clips from various news programs, I find that the Sixties is more educational than any History Channel special. It sends us back in time. Tom Hanks has his celebrity friends and some scholars jump in to guide us on our journey through this turbulent time, but it otherwise is a time capsule.

That said, the Kennedy episode was overlong and I felt that it focused too much on what-ifs and controversy. It was interesting, but I feel the Vietnam episode could have benefited more so from the two hour treatment.

I think that as far as history programs go, it is as entertaining and fascinating as you can get. Recreations and narrations always pull me out but this show manages to be informative while also being vastly entertaining. Highly recommended.

…

Expand