Please enter your birth date to watch this video:

You are not allowed to view this material at this time.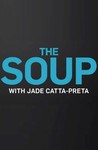 Episode Details & Credits
E! |
Air Date:
July 9, 2014
Summary:
Appearances by the cast of the Netflix horror series "Hemlock Grove," including Famke Janssen, Eli Roth and Bill Skarsgard.
Genre(s):
Comedy

,

Talk & Interview
Seasons & Episodes
Season 13

Season 12

Season 11

Season 11 Overview

Air Date: January 1, 2014

S11:E52. Clipdown Part 1

Air Date: December 26, 2014

S11:E51. Billy Eichner

Air Date: December 19, 2014

S11:E50. The Soup Awards

Air Date: December 12, 2014

S11:E49. The Soup 12/3

Air Date: December 3, 2014

S11:E48. Eric Andre

Air Date: November 26, 2014

S11:E47. John Mulaney & Steve Rannazzisi

Air Date: November 19, 2014

S11:E46. Rob Riggle

Air Date: November 12, 2014

S11:E45. Will Arnett

Air Date: November 5, 2014

S11:E44. Steve Rannazzisi

Air Date: October 29, 2014

S11:E43. Jack Black & Kyle Gass

Air Date: October 22, 2014

S11:E42. Rob Corddry

Air Date: October 15, 2014

S11:E41. Martin Starr & Grace Helbig

Air Date: October 8, 2014

S11:E40. Wendi McLendon-Covey

Air Date: October 1, 2014

S11:E39. Elizabeth Henstridge

Air Date: September 24, 2014

S11:E38. Larry King

Air Date: September 17, 2014

S11:E37. Adam Devine

Air Date: September 10, 2014

S11:E36. Scott Aukerman

Air Date: September 3, 2014

S11:E35. Seth Green, Patrick Warburton

Air Date: August 27, 2014

S11:E34. Brett Gelman

Air Date: August 20, 2014

S11:E33. Garfunkle & Oates, Eddie George

Air Date: August 13, 2014

S11:E32. Sharon Osbourne

Air Date: August 6, 2014

S11:E31. Dax Shepard

Air Date: July 30, 2014

S11:E30. Julie Benz

Air Date: July 23, 2014

S11:E29. Joel's Picks

Air Date: July 16, 2014

S11:E28. Cast of Hemlock Grove

Air Date: July 9, 2014

S11:E27. Mary Lynn Rajskub

Air Date: July 2, 2014

S11:E26. Questlove

Air Date: June 25, 2014

S11:E25. Andy Daly

Air Date: June 18, 2014

S11:E24. T.J. Miller, Rob Riggle

Air Date: June 11, 2014

S11:E23. Busy Philipps, J.B. Smoove

Air Date: June 4, 2014

S11:E22. Marc Maron

Air Date: May 28, 2014

S11:E21. Jessica St. Clair & Lennon Parham

Air Date: May 21, 2014

S11:E20. The Soup From NYC

Air Date: May 14, 2014

S11:E19. Jim Rash

Air Date: May 7, 2014

S11:E18. The Soup Goes to Washington, D.C.

Air Date: April 30, 2014

S11:E17. Jillian Rose Reed

Air Date: April 23, 2014

S11:E16. Zachary Levi

Air Date: April 16, 2014

S11:E15. The Soup Salutes WWE Again Piledriving More Clips in You...

Air Date: April 9, 2014

S11:E14. Patton Oswalt & Adam Devine

Air Date: April 11, 2014

S11:E13. Nathan Fillion & Tony Hale

Air Date: March 26, 2014

S11:E12. Rob Huebel, Capital Citites

Air Date: March 19, 2014

S11:E11. Tim Gunn, Nick Kroll, "Soup of the Walking Dead 3"

Air Date: March 12, 2014

S11:E10. Ross Mathews

Air Date: March 5, 2014

S11:E9. Rich Eisen, Michaela Watkins

Air Date: February 26, 2014

S11:E8. Richard Marx

Air Date: February 19, 2014

S11:E7. Patrick Warburton, Wendi McLendon-Covey

Air Date: February 14, 2014

S11:E6. Dr. Oz & Tyler Posey

Air Date: February 5, 2014

S11:E5. Tom Papa

Air Date: January 29, 2014

S11:E4. Tricia Helfer

Air Date: January 22, 2014

S11:E3. Liam McIntyre

Air Date: January 15, 2014

S11:E2. January 8, 2014

Air Date: January 8, 2014

S11:E1. The Soup Clipdown '13, Part 2

Air Date: January 1, 2014

Season 10

Season 9

Season 9

Season 8

Season 7

Season 6

Season 5

Season 4

Season 3

Season 2

Season 1