Network:

Showtime

Series Premiere Date:

Feb 2, 2018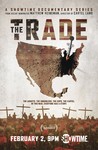 Summary:

The documentary series from Matthew Heineman focuses on all sides of the drug epidemic, from the drug cartel in Mexico, the police in Ohio and the two families impacted by addiction.

Genre(s):

News/Documentary

,

Documentary
Season 1 premiere date:

Feb 2, 2018

Episode Length:

60
The Trade, a five-part series from Showtime and "Cartel Land" filmmaker Matthew Heineman doesn't purport to be a corrective or some magic key to unlocking the problem. But as a means for empathy and a way to understanding the human cost at each step of an international heroin trade, it does far more than hollow words and shallow promises.

There may not be a more effective way to understand the sinister pervasiveness of this crisis and the destruction it is wreaking in the United States and Mexico than to spend time with the different kinds of people it's holding in its net, in addition to the people trying to destroy it and a few of the millions caught up within it. None of this makes The Trade easy to watch, but it is transfixing.

This isn't a documentary that has occasional exciting patches. It's a thriller that occasionally does the wonky work of a documentary. It's an episode of Narcos only it's apparently real and chances are good you'll appreciate all of these glimpses into a clandestine and personal world we're not supposed to be seeing without getting hung up on how we came to be seeing it.

An unnervingly close-up study of the conflict. Given an astonishing level of access to both Mexican drug lords and American junkies, he's intercut their stories with a narrative about an Ohio police narcotics squad, which though far more ordinary, is still revealing.

The Trade is a reminder that the people who are caught up in this world are only human; it encourages empathy. Much of what is most affecting in The Trade are the small human details--a Christmas tree in a drug dealer's house, the childhood pictures on a refrigerator door of a son or daughter lost to dope, a police detective rubbing the neck of a frustrated partner. The film is in letter-boxed widescreen for maximum cinematic effect--the photography is handsome without making things too pretty.
Matthew Heineman once again delivered a compelling piece of documentary examining the lives of both Mexicans and Americans. All the while

Matthew Heineman once again delivered a compelling piece of documentary examining the lives of both Mexicans and Americans. All the while trying to survive in the endless cycle of violence and supply and demand, drug addicts, poppy farmers, narcotics officers and local cartels all play different significant roles in achieving what they think are beneficial to themselves, but none of them can escape the cruel and simple reality of "Nothing is getting better".

…

Expand