Network:

ABC

Series Premiere Date:

Aug 11, 1997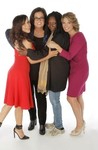 Starring:

Whoopi Goldberg

,

Sherri Shepherd

,

Barbara Walters

Summary:

Whoopi Goldberg is joined by new co-hosts in the form of Rosie O'Donnell, Rosie Perez, and Nicolle Wallace, after the morning discussion show changed studios and producers in the off-season.

Genre(s):

Talk & Interview
Season 18 premiere date:

Sep 15, 2014

Episode Length:

60
This respectable, illuminating View was also--let's face it--kind of boring.... It's kind of a comfort, and even exciting, that these four very intelligent, very congenial women with an abundance of respect for each other are going to be the ones helming it.

A flawed if promising start for a tough old veteran that proved it's still got some fight--and talk--left.

Most of what went on in between was rather stilted, which is to be expected when new hosts take over a long-established show, and this one has been around for 17 years. But even on Day 1, there were signs of where The View is headed, and it's likely to be more tame.

Only time will tell how well the chemistry holds up and evolves among the central quartet, but despite all the changes (including a new showrunner), The View hasn't done much more than rearrange--and perhaps reupholster--the chairs.
ABOUT THE VIEW. I always loved The View!! still like it but sick of Nicole or whoever that is who sat next to Whoopee on the morning of 21

ABOUT THE VIEW. I always loved The View!! still like it but sick of Nicole or whoever that is who sat next to Whoopee on the morning of 21 January 10am. On all shows she talks incisively/she needs to shorten her comments. the whole show is beginning to be about her. I was happy to see Whoopee back AND I hope there are not fights among Cohosts, I hate when that happens, we can see that people, so cut it out!!!!

…

Expand

I love the new set up with Jenny McCarthy she really is a great attributes to the show. I still miss the wit of Joy. But, Elizabeth was in

I love the new set up with Jenny McCarthy she really is a great attributes to the show. I still miss the wit of Joy. But, Elizabeth was in my opinion so opinionated that she over shadowed the show. So, I am glad she is gone. Now the chemistry on the show is great.
What I like the best of this show and keeps me coming back. Its not what they give away free to the audience like most
talk shows. But, they keep you informed, they allow people to tweet during there show. They have views send in pictures to show on there studio wall. The guest co-host is alot of fun to see who will be on next.

…

Expand

This show is trash, political correctness agenda garbage. Don't watch! It's mind numbing..............................................................

Jesus,how is this show not dead yet?18 seasons,Jesus. And is just so bad.

DONT WQTCH THIS FOR YOUR LIFE. No hot woman either, I r8 itJesus,how is this show not dead yet?18 seasons,Jesus. And is just so bad.

DONT WQTCH THIS FOR YOUR LIFE.

No hot woman either, I r8 it 0/8
Gitgudreqkktho

…

Expand

I use to love the View but now that they are so racist and political I can;t watch it Give it up Whoopie and Joy we do have a new president

I use to love the View but now that they are so racist and political I can;t watch it Give it up Whoopie and Joy we do have a new president and he isn't black or a democrat. I think the office of the president should be respected. You should be ashamed how you talk.

…

Expand