Please enter your birth date to watch this video:

You are not allowed to view this material at this time.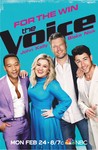 Episode Details & Credits
NBC |
Air Date:
May 5, 2014
Starring:
Carson Daly, Adam Levine, Blake Shelton, Usher, Shakira, T.J. Wilkins (II), Jake Worthington, Dani Moz, Kat Perkins, Sisaundra Lewis, Steven Rosenbaum (II), Biff Gore, Patrick Thomson, Jake Barker, Madilyn Paige, Ryan Whyte Maloney, Audra McLaughlin, Melissa Jiménez, Bria Kelly, Brittnee Camelle, Kaleigh Glanton, Chris Hawkes, Miranda Dawn, Clarissa Serna, Ayesha Brooks, Deja Hall, Ddendyl Hoyt, Kristen Merlin, Emily Gomez Benford, Stevie Jo Rosenbalm, Morgan Wallen, Christina Grimmie, Delvin Choice, Megan Rüger, Cierra Mickens, Tess Boyer, Sam Behymer, Josh Murley, Josh Kaufman, Cary Laine, Noah Lis, Cali Tucker, Joshua Howard, Lindsay Bruce, Allison Bray
Summary:
The Top 8 artists perform. Blake Shelton also performs a duet with The Voice veteran Gwen Sebastian.
Genre(s):
Reality

,

Game Show

,

Music
Seasons & Episodes
Season 18

Season 17

Season 16

Season 15

Season 14

Season 13

Season 12

Season 11

Season 10

Season 9

Season 8

Season 7

Season 6

Season 6 Overview

Air Date: February 24, 2014

S6:E28. Live Finale

Air Date: May 20, 2014

S6:E28. Recap: Live Final Performances

Air Date: May 20, 2014

S6:E27. Live Semi-Final Results

Air Date: May 17, 2014

S6:E26. Live Semi-Final Performances

Air Date: May 17, 2014

S6:E25. Live Final Performances

Air Date: May 19, 2014

S6:E24. Live Semi-Final Results

Air Date: May 13, 2014

S6:E23. Live Semi-Final Performances

Air Date: May 12, 2014

S6:E22. Live Eliminations

Air Date: May 6, 2014

S6:E21. Live Top 8 Performance Show

Air Date: May 5, 2014

S6:E20. Live Eliminations

Air Date: April 29, 2014

S6:E19. Live Top 10 Performance Show

Air Date: April 28, 2014

S6:E18. Live Eliminations

Air Date: April 22, 2014

S6:E17. The Live Shows Premiere

Air Date: April 21, 2014

S6:E16. The Playoffs Continue

Air Date: April 15, 2014

S6:E15. The Playoffs Continue

Air Date: April 14, 2014

S6:E14. The Playoffs Premiere

Air Date: April 8, 2014

S6:E13. The Battles, Round 2: Part 3

Air Date: April 7, 2014

S6:E12. The Battles: Round 2, Part 2

Air Date: April 1, 2014

S6:E12. Recap: Battle Performances, Week 2

Air Date: March 30, 2014

S6:E11. The Battles: Round 2, Part 1

Air Date: March 31, 2014

S6:E10. The Battles, Part 4

Air Date: March 25, 2014

S6:E9. The Battles, Part 3

Air Date: March 24, 2014

S6:E9. Recap: Battle Performances, Week 1

Air Date: March 23, 2014

S6:E8. The Battles, Part 2

Air Date: March 18, 2014

S6:E7. The Battles, Part 1

Air Date: March 17, 2014

S6:E6. Blind Auditions, Part 6

Air Date: March 11, 2014

S6:E5. Blind Auditions, Part 5

Air Date: March 10, 2014

S6:E4. Blind Auditions, Part 4

Air Date: March 4, 2014

S6:E3. Blind Auditions, Part 3

Air Date: March 3, 2014

S6:E2. Blind Auditions, Part 2

Air Date: February 25, 2014

S6:E1. Blind Auditions, Part 1

Air Date: February 24, 2014

Season 5

Season 4

Season 3

Season 2

Season 1