Network:

AMC

Series Premiere Date:

Oct 31, 2010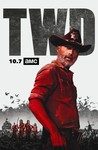 Starring:

Scott Wilson

,

Laurie Holden

,

Daniel Roebuck

Summary:

Based on a comic book series of the same name by Robert Kirkman, a small group of survivors, led by officer Rick Grimes (Andrew Lincoln), must fight a world full of zombies.

Genre(s):

Drama

,

Action & Adventure

,

Fantasy

,

Horror

,

Suspense

,

Science Fiction
Season 1 premiere date:

Oct 31, 2010

Episode Length:

60
Please enter your birth date to watch this video:
You are not allowed to view this material at this time.
This dark gem of a show about a zombie apocalypse gleams with hellfire incandescence.

What makes The Walking Dead so much more than a horror show is that it plays with theatrical grandeur, on a canvas that feels real, looks cinematic and has an orchestral score to match. For all its set pieces, however, Walking is most breathtaking in its small moments, in which the pain and glory of being human are conveyed with only the flick of a filmmaking wrist.

Whereas most entries in the musty genre are simply inclined to go for cheap shrieks and lofty body counts, this saga defies expectations with a more humanistic approach.

The Walking Dead may depend more on suspense, desolate atmosphere, and creative storytelling than fine acting. The show takes a nightmare generally told in movies and opens it up for the medium of TV. I'm optimistic that Darabont & Co. will continue to find ways to make the characters interestingly human as they dodge death's slow, ruthless pursuit.

The show, adapted from Robert Kirkman's comic book series, quickly moves past its familiar premise. It's about what happens after the apocalypse, in the struggle to remain human after society's collapse.

On the whole, I'd say The Walking Dead worth a look, no matter what your genre preferences, but horror aficionados are more likely to enjoy this intense, blood-spattered tale, which, like all AMC dramas, is about as aesthetically well-crafted as a TV show can be.

Darabont and his cast excel at conjuring up a taut social study, but let the horror scenes fall oddly flat.
This show is truly intense in every standard. Thrills, suspense, drama, etc. It may not be so much a scary show, but you have to admit, it's

This show is truly intense in every standard. Thrills, suspense, drama, etc. It may not be so much a scary show, but you have to admit, it's one hell of a show. The zombies may be what makes the show suspensefull, but watching the people have to fight amongst each other not only shows great drama, but even thrills. Especially in season 3. I mean, watching the Governor being his bad, villanous self is what really brings in the thrills. I can't to see how season 3 will end. Overall, it's a tremendous zombie show. Truly TV's greatest thrilller.

…

Expand

This review contains spoilers

, click expand to view

. The first season of The Walking Dead is a fantastic introduction to a new world overrun by zombies. In the first episode of the season we are really given the scope and magnitude of the infection. Frank Darabont made a fantastic choice in developing this idea from the comic page to the small screen. With producers like this show has, how could it possibly fail!

From the streets of Atlanta to the offices of the CDC, we don't just encounter zombies but we get a refreshing taste of drama! The character interactions in this series is fantastically portrayed and the acting gives it a realism you rarely get from other programs!

If you haven't watched this series, you haven't lived! (So to speak...)

…

Expand

Bloody brilliant. Amazingly paced, extremely well-acted, and wholly consuming. "The Walking Dead" will have me nailed to my couch for the next

Bloody brilliant. Amazingly paced, extremely well-acted, and wholly consuming. "The Walking Dead" will have me nailed to my couch for the next five episodes. Hands-down the best show or movie to feature zombies in a long, long time.

…

Expand

A diamond in the rough; one of the few shows that uses fantasy amazingly as a background to explore the complex human nature and their

A diamond in the rough; one of the few shows that uses fantasy amazingly as a background to explore the complex human nature and their reactions to horrifying and post-apocalyptic events, whilst still maintaining a dose of suspense and gory head-smashing action that will leave you on the edge of your seat.
With never-ending drama, deaths, emotions, friendships and intense adventures, The Walking Dead really is a show for everyone's taste.

…

Expand

One of my favourite TV series alongside Breaking Bad, this world of walkers has been beautifully created and the characters have actual

One of my favourite TV series alongside Breaking Bad, this world of walkers has been beautifully created and the characters have actual personality rather than some TV series. Being based off of the comics, although it is good to see their pages come to life, for those who read them before watching the TV series already knew what was going to happen.

…

Expand

The comic (and the episodic game, for that matter) are better. 100%. Any fan of the show should check out the comic and is missing out if they

The comic (and the episodic game, for that matter) are better. 100%. Any fan of the show should check out the comic and is missing out if they haven't. That said, I do LIKE the show (so far, after seeing Season 1). There are some really interesting new ideas, like what happens in the Season finale and how some of the stuff plays out differently. Not all the changes are for the best though. The pacing is really off, especially the first episode (which is weaker than the rest of the Season, overall), Shane really isn't interesting enough to become a main character, that I definitely found regrettable. And even that which they took from the comics... well, some of the hammy acting actually makes the unfortunate awkward idiosyncracies of Kirkman's writing show, rather than highlighting how strong it can be at times. But despite these complaints, the show is enjoyable. A zombie apocalypse is rife with the kind of ongoing human drama that can sustain a series and I'm surprised that it hasn't been done before. So, despite its flaws (and it is flawed), the show ends up being really unique and worth a watch, although I would recommend the comic universe as the superior "Walking Dead" media.

…

Expand

"Чего ты молчишь, Рик! Чего ты молчишь, быдло?!!" – хотел я заорать на весь дом, когда он столкнулся с Ниганом.

Сказать, что худший, самый"Чего ты молчишь, Рик! Чего ты молчишь, быдло?!!" – хотел я заорать на весь дом, когда он столкнулся с Ниганом.

Сказать, что худший, самый убитый, опущенный сериал на земном шаре, это еще ничегошеньки не сказать.
Настолько прос...али сериал, что здравомыслящий человек уже никогда не сможет его досмотреть до самого конца. В последних сезонах сериала всё очень удручающе! Прям очень-очень! Настолько всё плохо, что отбило все желания пересматривать первые лучшие сезоны! (когда начали снимать "Ходячих", так он был УДИВИТЕЛЬНЫМ сериалом! Безусловно, он заслуживал звание, "лучший сериал всех времён": не похожий на все остальные, какой-то особенный, уникальный в своём роде...). Но время шло своим ходом, зрители желали продолжения (ибо был очень интригующим! – каждая серия словно золотой слиток), зрители хотели чего-то нового, а авторы "химичили" с сюжетом великолепного сериала. Однако эти индивидуумы (авторы) "слишком сильно" увлеклись "деньгами" (что ли?), что просто-напросто, оставили здравый смысл позади себя!

В последних сезонах такой, извините меня, поносный бред проливается и стекает на самого зрителя!, что во время просмотра можно почувствовать себя "нездоровым человек", мол, "почему я смотрю этот бред? У меня что, крыша поехала? (ибо наивный сюжет до невообразимых пределов) – смотришь такой на "детскую сказку" а авторы, эту самую "сказку" принимают как самый настоящий "здравый смысл" на экране, по крайней мере авторы хотят "впарить" эту дичь самому зрителю. И если вдруг тебе что-то не нравится, то это значит, что "ты не понимаешь послание авторов сериала и это твои личные проблемы" (всё это исходя из поступков этих самых, опять же авторов данного сериала).

Спустя годы и годы, прописывая монотонный сюжет зрителю в уши, авторы наконец поняли, что они на грани обрыва (вот-вот потеряют всё) т.к. зрители уже не могли переносить эту издевательскую и возмутительную порнографию. Тут же, незамедлительным образом поняли!, что у них в запасе есть еще "запасная карта", а именно "Бойтесь ходячих мертвецов" (тот же самый сериал только чу-чуть в профиль, в некоторых моментах даже лучше чем "Ходячие").Так вот! Им пришло в голову "скрестить эти два сериала в одно целое" (словно как взаимодействие внеземной формы жизни –из легендарного фильма "Нечто" 82 года прошлого века– с индивидуумом). Они объединили, однако, потеряли много здравомыслящих зрителей, фанатов (я в том числе).
Дальше смотреть продолжение, я конечно не буду (то что они скрестили два сериала это интересно, но не совсем правильно).

Эх, этот 2010 год, когда сериал "Ходячие мертвецы" увидел свет! Эх, эти сладкие и забавные времена! Прям слёзы наворачиваются, правда.
Хочу я ей поставить твёрдую десятку, но этому не быть. К сожалению, огромному!

…

Expand