Network:

NBC

Series Premiere Date:

Dec 3, 2015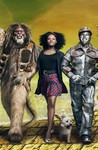 Summary:

NBC's latest live musical is an adaptation of the retelling of The Wizard of Oz with 18-year-old newcomer Shanice Williams as Dorothy; Queen Latifah as the Wiz; Mary J. Blige as Evillene, the Wicked Witch of the West; David Alan Grier as the Cowardly Lion; Elijah Kelley as the Scarecrow;

NBC's latest live musical is an adaptation of the retelling of The Wizard of Oz with 18-year-old newcomer Shanice Williams as Dorothy; Queen Latifah as the Wiz; Mary J. Blige as Evillene, the Wicked Witch of the West; David Alan Grier as the Cowardly Lion; Elijah Kelley as the Scarecrow; Ne-Yo as the Tin Man; Common as the Bouncer of the Emerald City; and The Wiz's original Broadway Dorothy, Stephanie Mills as Aunt Em.

…

Expand

Genre(s):

Drama

,

Music
Show Type:

Special

Season 1 premiere date:

Dec 3, 2015
Everyone served as a good reminder that, after the aerial dance numbers of Peter Pan Live! and the elaborate sets of The Sound of Music Live!, no flashy TV musical gimmicks can match the power of raw talent.

Great casting, terrific costumes, even a worthy new original song made it a spirited night.

It was well-cast. The costumes were beautiful, and the set design vibrant. And the music was excellent.

While it may not be enough to renew every musical-lover's faith in live-to-TV performances, The Wiz Live! certainly proves that musicals have a place on television right now – and not just in late-night monologue jokes.

The costumes, sets, choreography and makeup were incredible. And newcomer Shanice Williams as Dorothy? Outstanding. The only problem? The show was so packed with commercials the actors barely sang a song and it was time to cut to five or six ads. As a result, the story (what little there was) was impossible to track.

Whenever Mr. Grier was around and feeling on, it became something more complex.

All in all, there was a lot of talent laboring heroically in The Wiz Live! to enliven material that just didn't come to life very often.
I watch The Wiz both nights and I loved it! I went in with low expectations because I did not like the one with Donna Ross and Michael

I watch The Wiz both nights and I loved it! I went in with low expectations because I did not like the one with Donna Ross and Michael Jackson. I saw small clips of it when it first aired some 40 yrs ago and I did not like what I saw. I guess I just didn't care for the ghetto theme and setting.Also I thought Diana Ross was waaaay too old to be playing Dorothy. However the Wiz live with the new cast was entertaining and fun. What was missing was the warm claps of appreciation from a live audience after each spectacular performance. Kudos to the girl who played Dorothy who held her own surrounded by the mega talent on that stage. I look forward to seeing more of her in the near future.Of course it wasn't a perfect show with few obvious things to nitpick about but why when IMO, the fun out weighed the bad. :)

…

Expand

While wayyy better than grease live this musical is not one of my favorites. Shanice Williams was pretty good and so was her supporting cast.

While wayyy better than grease live this musical is not one of my favorites. Shanice Williams was pretty good and so was her supporting cast. No one stood out particularly other than Stephanie mills as auntie em Mary J blidge as the wicked witch of the west. This is one of the first live musicals that really stood out to critics and audiences and I can see why. There were actors who seemed to be giving it their all and the sets were magnificent and I don't think many people were thinking Shanice Williams would do as good as she did. Their was not much competition considering NBC's last two live musicals were pretty mediocre at best. Unlike grease this had a decent story with likable characters, for the most part the actors all around were pretty good. Their was a good moral message at the end too. However I don't really care for the updated wizard of oz story as the original is pretty close to my hart and the only song that I really enjoyed form the soundtrack was ease on down the road. While I may get hate for it This presentation had more hits than misses mostly because the actors all around supporting and main were great the energy was just as good. The only thing grease has better is a better soundtrack and even though the actors were good some of the actors were a little better in grease mostly from the supporting cast, and better energy. In conclusion I don't hate the musical it is not one of my favorites It was an impressive effort considering NBC's last two efforts

…

Expand

I watched the WIZ live and I did not like it.
I love all the stars in it but not is production
I saw the original Wiz on Broadway withI watched the WIZ live and I did not like it.
I love all the stars in it but not is production
I saw the original Wiz on Broadway with Stephanie Mills on Broadway
and the original Wizard of Oz movie many times
In my opinion there will only two people who can do the role
of Dorothy. Judy Garland in the movies and the spectacular
Stephanie Mills in the broadway production. Again I love all the stars in
the WIZ live but not in these roles

…

Expand