Network:

FOX

Series Premiere Date:

Sep 10, 1993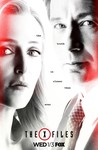 Starring:

David Duchovny

,

Gillian Anderson

,

Mitch Pileggi

Summary:

Mulder and Scully (David Duchovny and Gillian Anderson) are reunited as they look into possible aliens and government conspiracy in six new episodes.

Genre(s):

Drama

,

Action & Adventure

,

Horror

,

Suspense

,

Science Fiction
Season 10 premiere date:

Jan 24, 2016

Episode Length:

60
Please enter your birth date to watch this video:
You are not allowed to view this material at this time.
The X-Files is at its best when dealing with government conspiracies, and that's exactly what you'll get in the premiere episode.

Duchovny and Anderson both seem more relaxed, finally rediscovering their old zip-zap chemistry. Guest stars Kumail Nanjiani and Rhys Darby are delightful. It's scary, then funny, then existential, then shockingly moving.

"My Struggle" is, at best, clunky.... Anyone who loved the original has much better news coming on Monday, when the second of the six new episodes airs.... Better still is Episode 3.

By episode two, Mulder and Scully are, jarringly, back on the job and once again investigating an X-Files case that may or may not involve alien-human hybrids.... [The third episode is] the best of the first three episodes but also the weirdest.

The new run of The X-Files may well, in time, encompass some more up-to-date conspiracies. If so, they'll be welcome. Nobody is likely to grieve long over the absence of the latest on Roswell and invading aliens from space.

Duchovny and Anderson slip easily into their old roles. But character chemistry and nostalgia are not enough to carry a new season, even (or especially) such a short one.

Most of the time The X-Files is both trying too hard and skating superficially across the show's convoluted mythology, an unsatisfying combination that doesn't leave Duchovny and Anderson much of substance to dig into.
A wonderful return of the X Files to the small screen. Although there were some slight hiccups with Fox's transfer of programming from the NFC

A wonderful return of the X Files to the small screen. Although there were some slight hiccups with Fox's transfer of programming from the NFC Championship game in my area, overall, the show was a breath of fresh air concerning FOX. Fox has certainly struggled through the latest television season, and the X Files is still definitely their heavy hitter. Looking forward to a lot more from Mulder and Scully, who stepped right back into their roles with little effort and superb chemistry. This FBI duo STILL HAVE IT!!!!!

…

Expand

First episode was a huge disappointment. But wait! Things got way better in the second episode. You can in fact just safely skip the first

First episode was a huge disappointment. But wait! Things got way better in the second episode. You can in fact just safely skip the first one. The second episode I would give a 7/10 rating. But I did not expect it to get much better, after all it is x-files and old actors and stuff. But then came episode 3 which was truly amazing and deserves 10/10 points. It may be not your usual x-files episode. But everything in it is just perfect. I hope they can keep up with the quality in the forthcoming episodes.

…

Expand

Successful reboot. I am seeing a lot of negative critic's reviews on the Internet but I think they are undeserved. I sincerely hope there is

Successful reboot. I am seeing a lot of negative critic's reviews on the Internet but I think they are undeserved. I sincerely hope there is going to be more than 6 episodes in the future. They managed to revive everything this show is about - dark suspense, curiosity, conspiracy and fictional science. The characters hold strong and are even more realistic as they aged a bit.

…

Expand

Assessment relay 10:
They are there after more than 10 years again and obviously aged. However, this does not interfere and one is glad themAssessment relay 10:
They are there after more than 10 years again and obviously aged. However, this does not interfere and one is glad them returns.
The tenth relay begins with the mediocre first episode. Mulder and Scully are not fetched back and, otherwise, passed a lot. 70%
Result 2: Act X like one it loves. It delivers a good story and Mulder and Scully deliver like once a good achievement. The case is more realistic and does not act, fortunately, too much from aliens. 85%

…

Expand

What would have been great is to skip the middle episodes all together and do a 2 hour special containing the first and last episode. It's

What would have been great is to skip the middle episodes all together and do a 2 hour special containing the first and last episode. It's great seeing Joel Mchale (wow, i had to "add that to dictionary") outside of Community which is a awsome (Yes, I spell awsome like that) show by the way. In conclusion (how do i get that line crossing through the words?(I know, Google it)), the part when Tad explains the giant conspiracy with a perfectly edited video montage is 10/10 material.

…

Expand

This doesn't quite live up to the expectations of the older show and tries to do too many things too quickly. Could have used more episodes

This doesn't quite live up to the expectations of the older show and tries to do too many things too quickly. Could have used more episodes instead of just 6. Can't have everything, Ash vs Evil Dead was a pretty good reboot. Hopefully they'll let them do more episodes next season.

…

Expand

Why in gods name would they recreate the same stupid conspiratorial story line that never ends? Both actors must have been in dire straits

Why in gods name would they recreate the same stupid conspiratorial story line that never ends? Both actors must have been in dire straits financially or career wise to agree to coming back to this mess. Even the opening is using the exact same stupid font "the truth is 'never' out there." Chris Carters story is bunk. It's old. It's dumb. And I'm sure they're going to bring back Dumb, Dumber, and Dumberer otherwise known as The Lone Gunmen. I just can't. Watching the same thing for 1 more season is not worth my time. If they'd done 22 episodes of non-conspiracy, stories...I'd gladly watch.

…

Expand