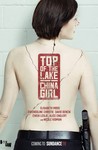 Starring:

Elisabeth Moss

,

David Wenham

Summary:

Detective Robin Griffin (Elisabeth Moss) returns to New Zealand to visit her sick mother only to be drawn into the investigation of the disappearance of a pregnant 12-year-old (Jacqueline Joe).

Genre(s):

Drama

,

Movie/Mini-Series
This haunting New Zealand miniseries boasts a strong, tense performance from Mad Men's Elisabeth Moss as a detective, but it's very much the work of director Jane Campion. [25 Mar 2013, p.44]

This six-part series is so layered and unexpected that nothing follows a tried-and-true formula.... This is great TV.

After the forced setup, evolves into a rich portrait of hard lives and the possibility of healing. By episode 3, the miniseries feels like a smart crime novel, steeped in very specific locales and individuals.

Top of the Lake is reminiscent of AMC's The Killing in ways both good (its moodiness) and unfortunate--Robin has a fiancé back home who keeps pleading for her to return--but its world is so specific and transcendently trippy, haunted by mythic legends rooted in this unforgiving geography, that it feels wondrously fresh, alien and unforgettable.

Most of the elaborately introduced plotlines fizzle out (or simply vanish), and the final surprise is the worst kind of twist ending, arrived at arbitrarily and seemingly presented for its shock value.
This review contains spoilers

, click expand to view

. Top of the Lake is a unique and captivating mini-series that offers great writing, acting and direction, and a fantastic setting. At first glance a crime drama, it defies genre conventions, but the tip of the hat to the horror genre in the opening sequence and music is not to be ignored.

Make no mistake; Top of the Lake is about New Zealand. Any local will tell you that New Zealand is Paradise; Top of the Lake tells us about the dark side of that paradise. Yes, there is an Appalachian (for example) version of this story but this is a distinctly New Zealand story.

Top of the Lake is a portrayal of New Zealand culture and its problems as few other films or series have done. "Once Were Warriors" is a notable exception, and it is no coincidence that that film also deals with issues of misogyny, violence, rape, teen suicide, child abuse and child molestation.

There is a lot of feminism in Top of the Lake, but it is New Zealand culture that is indicted, and men and women are both guilty. There are many victims in Top of the Lake, but there are few innocents. Women seem to limit their sins to denying, defending and otherwise enabling the behavior of men, and the dark side of the culture in general, but Top of the Lake wants us to question whether they are any less guilty. We probably see this most clearly in Campion's main character Robin Griffin, played by Elizabeth Moss.

There are many good reasons to like Robin, and to identify with her. But the viewer suspects Al Parker (David Wenham) early on, and grows uncomfortable as Robin fails to follow up on some fairly clear warning signs, especially when she blacks out and wakes up in his bed and clothes, but fails to have a rape kit done, or a blood test, or to do anything more than give Al a light questioning. She has suspicions, but she fails to follow through on them. It begins to resemble the denial and willful blindness that is so much a part of the local culture, and a strong theme of the series.

Robin continues to get drunk in bars filled with overtly misogynist men, including one who actually raped her as a teenager. She rekindles an old relationship with an old flame, Johnno (Thomas M. Wright) in a no-means-yes moment in a pub toilet. This old flame had abandoned her at a high school dance just before she was raped by four drunk local men. He comes clean about being there, but refuses to deny planning it with them ahead of time. She continues seeing him.

When the local drug lord, Matt Mitchum (Peter Mullan), the most obvious villain of the series, reveals to her that he is her father, and that her lover is therefore her half-brother, we feel her horror as she realizes that many of the local demons are inside of her as well, and have been all along (Al has DNA testing done, and reports that Johnno is not Matt's son. However he also reports that Tui's baby is Matt's, almost certainly a lie. We never know for sure).

As ugly as this all might sound, I continue to have a lot of sympathy and patience for Robin, as do most viewers I think. Credit this to the acting of Elizabeth Moss, but of course Campion knows that it is important that the audience care about even such a deeply flawed character.

Campion may have less patience for Robin than we do. GJ, the reluctant "guru" of Paradise, played by Holly Hunter, is inspired by the late Indian philosopher U.G. Krishnamurti, a friend of Campion's. GJ has no more patience for Robin than for any of the "crazy living at Paradise. Robin is apparently the "crazy that broke the camel's back, sending GJ off to Reykjavik, about as far from New Zealand as a person can get.

…

Expand

Top of the Lake is one of the most intriguing shows I've seen in long time, the quirkiness of the characters (especially Elisabeth Moss)

Top of the Lake is one of the most intriguing shows I've seen in long time, the quirkiness of the characters (especially Elisabeth Moss) enhanced the intertwined and un-nerving story-line. The characters were mysterious yet believable and scenery stunning. Another Campion New Zealand masterpiece.

…

Expand

Dark, twisted, weird and mysterious, you won't see any similar show on TV right now. Not only its plot is well-weaved and tense, the

Dark, twisted, weird and mysterious, you won't see any similar show on TV right now. Not only its plot is well-weaved and tense, the characters are played out beautifully. It has a great potential for awards!

…

Expand

When twelve year old Tui Mitcham is found apparently trying to kill herself in an ice cold lake it is soon discovered that she is pregnant.

When twelve year old Tui Mitcham is found apparently trying to kill herself in an ice cold lake it is soon discovered that she is pregnant. Unable to get Tui to talk the child services agency calls Robin Griffin (Elizabeth Moss), a detective with experience of working on such matters, and who happens to be visiting her cancer-stricken mother in the area.

The shows rural surroundings certainly make for a more interesting background than the usual big city setting and this, coupled with the way in which the show is structured across its seven episodes, means that the show is able to feel original despite being yet another detective drama. Any fans of Mad Men will know Moss is talented actress and the rest of the cast give equally natural performances that help the plot build towards a satisfying conclusion.

The only criticism I would personally level at the series is that the pace is rather slow at times during the first few episodes. As The Wire, arguably the greatest drama series in TV history, demonstrated that in itself is not necessarily a problem but when there are only seven episodes I just felt it needed to grab my attention a little quicker. That's only a small criticism though and it certainly doesn't stop Top of the Lake being a worthwhile watch.

…

Expand

Mediocre, no wait, it was slightly below mediocre. What it lacks is a
good story line, the plot is just so painfully obvious; Detective goesMediocre, no wait, it was slightly below mediocre. What it lacks is a
good story line, the plot is just so painfully obvious; Detective goes
back to her home town to solve a case (sound familiar?), the town is
small and quiet, ruled over by a rural gangster who controls pretty
much everything which leaves our detective wondering who to trust
(sound familiar?), during the course of the investigation our detective
discovers truths about her own dark past (if it doesn't sound familiar
to you by now, you really haven't been watching much TV/films over the
last 20 years). The plot twists (if they can be called that) are just
as obvious, I figured out who the bad guy was half way through this and
then just sat around waiting for her to figure it out.....which was
sort of dull.

Apart from being a bad story, it's also badly told. A lot of the times
you are left confused over who these people are and what exactly their
relations are with each other. So when something actually happens to
them you don't really find yourself caring much about it. Speaking of
characters I almost feel like I have to mention the women on the lake
top; a bizarre collection of horny, middle-aged women who follow some
guru like figure who gives them bashful, plaintive advice. The entire
thing is so stupid that you're just left there gaping at the screen
thinking "what the Hell?"

The acting is okay, nothing to boast or complain about that.

To sum up, for a suspense/thriller there is really little actual
suspense or excitement, just the plaintive progression of a plaintive
storyline. The only possible reason you might have to watch this show
is to see the stunning beautiful New Zealand landscape.

…

Expand

Absolutely ludicrous plot. A bunch of scenes designed for sensational effect. I. e. the chimpanzee story --shameless exploitation of a

Absolutely ludicrous plot. A bunch of scenes designed for sensational effect. I. e. the chimpanzee story --shameless exploitation of a tragedy, not even an attempt to fictionalize.
I'd recommend BBC's Luther or Prime Suspect way above this for acting, action, drama, believable multidimensional characters you can care about.
Moss's accent came & went & was awful. Didn't she ever watch Flight of the Conchords to pick up pointers?
Unbelievable critics fell for this horsedoodle and gave it 100--how'd that happen?

…

Expand

This review contains spoilers

, click expand to view

. Unbelievable plot and characters saturate this nightmare. Most of the scenes don't link up with each other and many of the relationships in this story Make no sense. There are constant errors, such as at the end of episode one, the lawyer was reported as a 'Man Overboard' after being killed, then the next day, Moss and the half-brother find the lawyers body while inexplicably jogging in the woods together after having met the day before during investigation.

These kind of unexplainable errors in writing are rife and rampant throughout this crappy, crappy show. All of the women, even the main character are ugly, unintelligent and introverted, making many of her character's appearances on screen pointless and dull. I can't see how anyone that has ever watched TV before could give this show a 10/10 let alone a 100/100. This show is terrible and it was apparently written by morons or crazy people.

…

Expand