Network:

ABC

Series Premiere Date:

Oct 16, 2013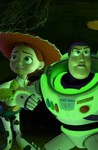 Summary:

Buzz, Woody and the other toys must locate a lost toy at a motel during a trip with their new owner, Bonnie.

Genre(s):

Animation

,

Movie/Mini-Series

,

Kids
Show Type:

TV Movie

Season 1 premiere date:

Oct 16, 2013
ABC's Toy Story of Terror! is a delightful half-hour vignette of gags, action and self-empowerment, couching its never-give-up message in terrific non-stop entertainment.

Toy Story of Terror! is about a quarter the length of the average animated feature, but everything else here could easily be mistaken for the bigscreen version, from the pacing and humor to Michael Giacchino's score.

It's a small adventure befitting the 30-minute running time but it's also clever in the way it ultimately puts the "Toy Story" characters in a recognizable situation, which is similar to the big-screen movies.

Once the annual avalanche of Halloween-themed episodes, specials and movies overtakes TV, you probably don't expect to be using the word "charming" very often. But charming perfectly describes one such entry, Toy Story of Terror!

It's a fun, holiday diversion that gives Pixar fans characters they miss, probably even more so given the films that followed their final adventure.

The Toy Story franchise has always operated best with a note of existential panic, and there's some of that here, but it feels like the special leans awfully hard on the films that gave rise to it.

Themes from earlier Toy Story movies are also recycled, which should bother no one. Although Woody and Buzz get their screen time--with Jessie, they are the "Jules et Jim" of computer-animated cartoons about sentient playthings--it is the plucky cowgirl, facing her fears, whose story this is.
Toy Story of Terror is great, it reunites everything you learned from the first three Toy Stories, team work, friendship, plans, it has real

Toy Story of Terror is great, it reunites everything you learned from the first three Toy Stories, team work, friendship, plans, it has real soul. The animation is riveting and the overall the TV Special thing is an unexpected surprise. Although it is twenty minutes long, it is so entertaining, lovely and really funny. Toy Story of Terror proves that Disney Pixar still knows how to deliver the best for the families. Absolutely loved it.

…

Expand

Excellent video. just the style of Pixar studios: enjoyable, funny and entertaining.
Gathers the essence of the movies.When I saw this shortExcellent video. just the style of Pixar studios: enjoyable, funny and entertaining.
Gathers the essence of the movies.When I saw this short film, I want to see the movies again.
I'm anxious awaiting more material from Pixar studios.

…

Expand

When this starts out exactly Identity. Or if you are older 10 Little Indians. The animation is spot on. The plot is good and keeps you

When this starts out exactly Identity. Or if you are older 10 Little Indians. The animation is spot on. The plot is good and keeps you interested and engaged. The kids will love it the only two problems I saw was it was too short and will only come on for Halloween. Otherwise it is a complete winner.

…

Expand

The 10 streak is over.... hey, that doesn't mean Toy Story's over yet. We still have Toy Story of Terror which means it's enjoyable as a sole

The 10 streak is over.... hey, that doesn't mean Toy Story's over yet. We still have Toy Story of Terror which means it's enjoyable as a sole representative to the Toy Story franchise.

…

Expand

Love the story plot, lots of references in the special. Even if it's twenty minutes long, it still had a story from beginning, to end, and

Love the story plot, lots of references in the special. Even if it's twenty minutes long, it still had a story from beginning, to end, and some scary moments too. Looks like Pixar still knows what Toy Story is all about. I'm rating this a 8.9, or a B+

…

Expand

Toy Story of Terror is a spin-off TV special, made for Halloween, that takes all the negatives normally related to TV spin-offs and shows what

Toy Story of Terror is a spin-off TV special, made for Halloween, that takes all the negatives normally related to TV spin-offs and shows what can truly be done. The animation and story is right up there with the standards set by the Toy Story series. It has a positive message and lot of cute character moments that kept me smiling the whole way through. Full of charm and perfect for the season I know I'll be making this an annual Halloween watch!

…

Expand

I thought Toy Story 3 was the end of the Toy Story franchise! Of course not. Now, they've regressed to being the replacement for charming and

I thought Toy Story 3 was the end of the Toy Story franchise! Of course not. Now, they've regressed to being the replacement for charming and original short films at the beginning of Pixar films, and their lovableness is gone, replaced by bad jokes and lame new characters. Disney ruined my childhood.

…

Expand