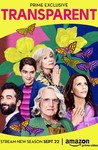 Summary:

Maura's (Jeffrey Tambor) journey continues in season two.

Genre(s):

Comedy

,

Drama
Season 2 premiere date:

Dec 11, 2015

Episode Length:

30
Please enter your birth date to watch this video:
You are not allowed to view this material at this time.
A TV series that makes revolutionary art seem both irresistible and inevitable.

As striking as some of the scenes are individually--the premiere episode alone features a pair of long takes that are like sisters to one another, with the first being entirely still and the latter in constant motion--it's not until you see the whole season that you can truly appreciate the depth of what's being depicted.

Just a few of the series' many charms are its nimble energy and its ability to hopscotch between sadness and silliness without missing a beat; there are also scenes of pure joy, like a road-trip sing-along to the Indigo Girls classic "Closer to Fine." Transparent is also ridiculously funny at times, and quite willing to send up the self-absorption of its characters while never losing sight of their pain and aspirations.

Everything that was a big part of the first season is back, but more: The show's loose fantasy boundaries are even more permeable, the Judaism is more present, everyone's worst trait is more squarely front-and-center, the primacy of the sibling bonds more exclusionary. The winky pokes at academia poke harder. The flashbacks flash farther back.

These scenes [flashbacks to Weimar Germany], which feature Michaela Watkins doing the best with a tritely anxious, angry character, are the weakest elements of the new season, at once too pat and too melodramatic. But the show benefits from terrific casting in its supporting roles this season, with great turns by Cherry Jones, Richard Masur, Anjelica Huston, and the poet Eileen Myles.

Transparent, with Shelly's increased screen time and the children's repetitive story lines, has grown even more myopic. With few exceptions, including random flashbacks to Weimar-era Berlin, the show feels more claustrophobic than ever.
One of the best shows out there, with a very important social role. It is a pity it is only 10 episodes long, because waiting an entire year

One of the best shows out there, with a very important social role. It is a pity it is only 10 episodes long, because waiting an entire year to se more is too much!

…

Expand

"Transparent"'s most impressive quality is that it doesn't try to be a "transgender" show, zeroing in exclusively on the character of Maura.

"Transparent"'s most impressive quality is that it doesn't try to be a "transgender" show, zeroing in exclusively on the character of Maura. Maura's decision to transition is an inciting incident for her children to examine their lives, and the show reflects this by gradually focusing more and more on her offspring. The second season benefits from a wider scope, overall, defining Maura's ex-wife Shelly as more than a Jewish stereotype and exhibiting the best cross-decades thematic linking since "The Godfather Part II". It's quite simply one of the best shows on television (if it were on television).

…

Expand

So outstanding! Every member of the Pfefferman extended family gives a masterful performance, the musical direction is stunning, the scripts

So outstanding! Every member of the Pfefferman extended family gives a masterful performance, the musical direction is stunning, the scripts accomplish so much in each episode but feel effortless. I feel like a richer person for having watched this show!

…

Expand

I so loved season one. I must admit to some disappointment with season two. That's not to say it's not still in a class by itself. It's just

I so loved season one. I must admit to some disappointment with season two. That's not to say it's not still in a class by itself. It's just that the primary characters, excepting Jeffrey Tambor's exquisitely wrought lead role, are written in a very unsympathetic palette of near-psychotic "colors." I am not looking for some "Pollyanna-like" resolution to crazy family dynamics, but, gosh, would it kill the show to make a few human connections go unbroken, or at least be reparable? Cherry Jones breathes remarkable life and nuance against the 2D figures with whom she interacts. Of course, she's also a brilliant actor. Like Jon Voight's character of Mickey Donovan in "Ray Donovan," she commands the screen when she occupies even a portion of it. So, for the flashes of brilliance that endure, I will not pan this show.

…

Expand

This isn't a terrible show but it's just above mediocre. The rave reviews are more likely due to the PC crowd and the subject matter that is

This isn't a terrible show but it's just above mediocre. The rave reviews are more likely due to the PC crowd and the subject matter that is the central point of the story and not really on the merit of the show alone.

…

Expand

Quite simply, Transparent was a superb single run outing... and it should have been left there. With the impetus to keep the story going, the

Quite simply, Transparent was a superb single run outing... and it should have been left there. With the impetus to keep the story going, the show has lost much of what gave it merit, and as it has removed itself further from the strong themes at the heart of season 1 it has blindly meandered into the dull world of boring family drama, its only saving grace being a man in a dress.

…

Expand

Interesting at times for exploring history and gender, but this show is mostly about extremely selfish people being incredibly awful to each

Interesting at times for exploring history and gender, but this show is mostly about extremely selfish people being incredibly awful to each other in the name of "growth" (which never turns out to be real character growth). Every once in a while, some of the characters do act tenderly toward each other, but those brief moments are swamped by cold manipulation, selfish motivation, even pure narcissism.

…

Expand