Network:

ABC

Series Premiere Date:

Sep 24, 2013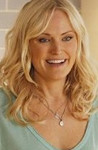 Starring:

Bradley Whitford

,

Michaela Watkins

,

Malin Akerman

Summary:

Kate Harrison (Malin Akerman) finds life as the third wife of Pete (Bradley Whitford) complicated by the presence of his ex-wives and stepchildren. Marcia Gay Harden, Natalie Morales, and Michaela Watkins also star.

Genre(s):

Comedy
Please enter your birth date to watch this video:
You are not allowed to view this material at this time.
Akerman has to be everything. Good thing she's a nimble actress.... Whitford is always winning, and even the poor exes find wiggle room inside their cliches.

Trophy Wife is nominally about a marriage, but if its very polished and sure-handed pilot is any indication, it is just as focused on Kate's dynamic with Pete's ex-wives.

Executive producers Haskins and Emily Halpern are sharp and the lines are funny and maybe, just maybe, there's a show here.

Trophy Wife is no prize--the pilot is swamped with exposition recited in the girlishly thin voice of star Malin Akerman--yet there's enough of a comedic brain and cast at work here that some additional polishing might do the trick. [30 Sep 2013, p.49]

With its title and premise, Trophy Wife is not an immediately likable show but some of the jokes land well and the kid characters are fun.

There's some notable talent here. But they're wasted to such a drastic degree on such stale character writing that I doubt it can be turned around.
Easily the funniest new comedy on TV this season, which explains how bummed I was when ABC opted not to renew it. Malin Akerman is such an

Easily the funniest new comedy on TV this season, which explains how bummed I was when ABC opted not to renew it. Malin Akerman is such an adorable actress and the whole cast just works really well. I think the show works so well for me because it kind of resonates with Modern Family and the senior show has not been as funny as it used to be in earlier seasons. I hope ABC or other networks or if necessary Netflix/Hulu come to their senses and revive this stunning work!

…

Expand

The asian kid is a little racist and weird, but it's funny, and I like that. I think it could end up becoming a nice family show. The "trophy

The asian kid is a little racist and weird, but it's funny, and I like that. I think it could end up becoming a nice family show. The "trophy wife" really cares, and that's something that I think the kids and his ex-wives are gonna realize soon.

…

Expand

Trophy Wife truly deserves a trophy. People compare this show with Modern Family a lot, but I think this show has a better and stronger start

Trophy Wife truly deserves a trophy. People compare this show with Modern Family a lot, but I think this show has a better and stronger start than Modern Family. It shows a whole new concept of what families can be in this modern day and the jokes are not that bad. Classic humor with a modern twist.

…

Expand

I am finding this show funnier than I should be. The writing could be a bit sharper but the delivery is pretty flawless. Whitford and Akerman

I am finding this show funnier than I should be. The writing could be a bit sharper but the delivery is pretty flawless. Whitford and Akerman have good chemistry but Tsai steals every scene he is in. I hope it sticks around long enough to find its footing.

…

Expand

Bradley Whitford and Malin Akerman are good and some of the jokes were funny but a bit too few to be worth watching. It has good premise to

Bradley Whitford and Malin Akerman are good and some of the jokes were funny but a bit too few to be worth watching. It has good premise to make use of and could get better in a few more episodes

…

Expand

The show is ok; but it is not one of the shows that I have to watch every week and schedule time to watch, but is one I will watch if I am not

The show is ok; but it is not one of the shows that I have to watch every week and schedule time to watch, but is one I will watch if I am not busy and there is nothing else on. The acting is pretty good, especially the children's acting. However, there just is not a lot of interesting things going on in the plot; and while it does contain comedy, there is not enough to hold your attention for half an hour The kids have most of the funny lines of the show, so maybe if there are more scenes with Kate and the kids the show will be better; but the show is not bad for a half hour comedy that airs after all the main shows on network tv.

…

Expand

Not particularly impressed so far. The show is slowly getting better with each passing episode, but I can't help but feel like there are

Not particularly impressed so far. The show is slowly getting better with each passing episode, but I can't help but feel like there are better shows out there to watch. It's got some decent jokes and the younger actors are nice, but the a lot of the adult characters are just cliches that have been done to death in other sitcoms. Overall there are a lot of worse shows out there right now, but there are also of better shows out there right now. "Trophy Wife" is watchable, but not great.

…

Expand