Network:

HBO

Series Premiere Date:

Jan 12, 2014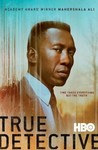 Starring:

Michael Potts

,

Michelle Monaghan

,

Woody Harrelson

Summary:

A 17-year hunt for a serial killer in Louisiana begins with Detectives Rust Cohle (Matthew McConaughey) and Martin Hart (Woody Harrelson) joining the search in this eight-episode anthology series.

Genre(s):

Drama

,

Action & Adventure

,

Suspense
Creator:

Nic Pizzolatto

Season 1 premiere date:

Jan 12, 2014

Episode Length:

60
Please enter your birth date to watch this video:
You are not allowed to view this material at this time.
True Detective runs slow and steady without ever seeming to drag. Even minor characters get room to breathe, and seem independently alive; the briefest scenes seem to imply life beyond the frame.... The dance [Matthew McConaughey and Woody Harrelson] do together here is work of a very high order, and all the reason you need to watch.

The acting--by Matthew McConaughey and Woody Harrelson--is off the charts. The writing and the concept, by series creator and novelist Nic Pizzolatto, undulates from effectively brash soliloquies to penetratingly nuanced moments carried by sparse prose. Lastly, director Cary Joji Fukunaga has created a beautiful, sprawling sense of place (the series is shot and set in Louisiana).

After True Detective, all the other TV cops hunting serial killers are going to look like copycats. It's that the taut script and spot-on dialogue takes us on a '90s noir roller coaster ride of Shakespearean tragedy with fearless literary aspirations, delivered by two actors at the top of their game.

The crime they're investigating often takes such a back seat to the show's tricky structure and the all-pervasive angst you may once again wonder what exactly HBO has against the notion of narrative urgency. But be patient with this slow-burner of a disturbing, demanding drama. These detectives are truly fascinating.

Happily, Harrelson and McConaughey play the characters well enough, and the script is crafted ingeniously enough, that we want to know where it all goes next--and don't focus on the likelihood it will be no place good.

Whatever the length of the show's much admired tracking shot (six minutes, uncut!), it feels less hardboiled than softheaded. Which might be O.K. if True Detective were dumb fun, but, good God, it's not: it's got so much gravitas it could run for President.
Just another lover of "True Detective". Yes, it does remind me of several other detective/procedural series on TV but it is so much more

Just another lover of "True Detective". Yes, it does remind me of several other detective/procedural series on TV but it is so much more subtle, so much better acted. Harrelson and McConneghy are far from being among my favorite actors but on "True Detective", they simply show how it is done. Excellent!

…

Expand

After watching the first season of True Detective, I was thrilled with positive emotion when this 8 episode anthology ended with a bang and

After watching the first season of True Detective, I was thrilled with positive emotion when this 8 episode anthology ended with a bang and the only person that shines the most in True Detective was Mr. McConaughey himself. And there is no doubt that True Detective is the best new crime show on HBO sitting right next to The Wire and The Sopranos..

…

Expand

Indeed a perfect TV show. The greatest, most sophisticated writing and acting combine to tell the story of a 17 year hunt for a serial killer!

Indeed a perfect TV show. The greatest, most sophisticated writing and acting combine to tell the story of a 17 year hunt for a serial killer! It's not just another serial killer show. It focuses on the minds of ordinary people living in a world of crime.
I cannot possibly underrate this show!

…

Expand

One of the most effective slow burns I've witnessed in TV history. An impeccable performance by the two leads and perfectly matched music

One of the most effective slow burns I've witnessed in TV history. An impeccable performance by the two leads and perfectly matched music created a dark, disturbed look into the life of a serial killer.

Excited to see who and where will be included in the next season!

…

Expand

Episode #1 Review - 9/10
Episode #2 Review -
Episode #3 Review - Episode #4 Review - Episode #5 Review - Episode #6 Review - Episode #7Episode #1 Review - 9/10
Episode #2 Review -
Episode #3 Review -
Episode #4 Review -
Episode #5 Review -
Episode #6 Review -
Episode #7 Review -
Episode #8 Review -

…

Expand

This review contains spoilers

, click expand to view

.

Season 1 is good although extremely male centered! They need to have female writers for this show because at times it feels like a 14 year old boy is writing this story. There is one point where Rust "has no choice" about something, later redeemed when he says he had a choice. Of course he had a choice, it's insane to push the belief that men can't control themselves and it's damaging for men too! At one point Marty sleeps with a much younger woman, it's really disgusting. It's just disgusting. I really doubt a young girl that age is going to go for a guy his age unless he's wealthy and if you wanted to make a character like-able and believable, why would he sleep with her after saving her as a child? Sure, he could have more failures, but, why her? Wouldn't he be comparing her to his own daughters? When she told Marty how she wanted to do something that she never had done before: that is a ridiculous line and seriously brought me completely out of it. And then the wife that keeps taking him back, I wish it didn't end like that. It felt so undeserved. The characters were good, I liked Rust and even Marty (minus all the stuff I already talked about) and the plot itself was really interesting. I felt like the killer was kind of a give away before it had to be. I kind of wish that there was a surprise moment when we find out who it is. The second season is better, perhaps they got a lot of flack about the sexist overtones in the first season. The second season is definitely harder to follow and there are a ton of lines that are jarbled and impossible to understand. It took me a few episodes to figure out what was going on and I'm still not completely sure. There is a lot of fast quiet talking, especially in the beginning. Less of a teenage boy fantasy though, but some of the episodes kind of drag along.

…

Expand

I was excited to see that a black actor was cast in the lead, a sign of progression, but I was quickly reminded that Hollywood is still stuck

I was excited to see that a black actor was cast in the lead, a sign of progression, but I was quickly reminded that Hollywood is still stuck in the pre60s as it relates to black women. Once again, a bi-racial actress, an a boring one at that, has been cast to play the role of a black woman. Do dark skin black male actors have a clause in their contract that read: love interest must be bi-racial or white. What the F..... I can't/won't support this garbage.

…

Expand