Network:

Netflix

Series Premiere Date:

Mar 6, 2015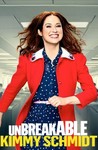 Summary:

Kimmy Schmidt (Ellie Kemper) moves to New York to start over after escaping from a doomsday cult in this comedy originally created by Tina Fey and Robert Carlock for NBC.

Genre(s):

Comedy
Season 1 premiere date:

Mar 6, 2015

Episode Length:

30
Please enter your birth date to watch this video:
You are not allowed to view this material at this time.
Unbreakable Kimmy Schmidt
Right there in the title, Unbreakable Kimmy Schmidt tells you its central character is stronger than what's been done to her, and she will survive it. Plus, it's funny.

It's at once a twisted parody of every "plucky single gal in the big city" story ever told, and an often hilarious version of the real thing.

Creators Fey and Carlock instill Unbreakable Kimmy Schmidt with the infectious positivity of their title character, who won't give up, no, she'll never give up. Still, her hard knocks life starts taking its toll in later episodes, draining some of Kimmy's ebullience and replacing it with a little petulance. The sunny side up Kimmy is much preferable.

On its own, the show's concept might have just been a throwaway 30 Rock subplot; what sustains it is how it applies the concept of unbreakability beyond Kimmy. Each character is a survivor.

The execution of the high concept is rich with many excellent details, gags, and characters.

It feels like 30 Rock. There's the same deadpan, high-octane pacing, penchant for the completely silly, love of weird names, and passion for bizarre pop-culture reference.... But Kimmy Schmidt has a bigger heart than 30 Rock.

The net effect, though, has a slightly tired feel to it--or at least, one that doesn't feel wholly worthy of Netflix's premium-TV niche. Indeed, in terms of laughs, the show essentially peaks in its first few minutes.
Absolutely loving Kimmy Schmidt. Can't wait for Season 2! FYI: I am a fan of Community, Parks and Rec, Don't Trust the B---- in Apt 23, and

Absolutely loving Kimmy Schmidt. Can't wait for Season 2! FYI: I am a fan of Community, Parks and Rec, Don't Trust the B---- in Apt 23, and love Last Man on Earth so far.

…

Expand

Pure gold. Wit, verve, warmth, and did I mention wit? So dense with laughs that you have to watch more than once. Casting is perfect and

Pure gold. Wit, verve, warmth, and did I mention wit? So dense with laughs that you have to watch more than once. Casting is perfect and energy is off the charts. I don't know, chica hamburguesa, this might be my favorite of this century.

…

Expand

Best laugh I've had in ages, could not stop watching. Every episode is a classic, the new Arrested Development. Can't wait to see if there

Best laugh I've had in ages, could not stop watching. Every episode is a classic, the new Arrested Development. Can't wait to see if there will be a season 2.

…

Expand

Doesn't quite get into the emotional subtext that the next season does, but Unbreakable Kimmy Schmidt's first season is really, really

Doesn't quite get into the emotional subtext that the next season does, but Unbreakable Kimmy Schmidt's first season is really, really hilarious thanks to Tina Fey's stellar creative direction. One of the most witty shows on TV, to the point where it can be a bit hard to catch the next joke because there are so many per episode.
Tituss Burgess is a truly dynamic supporting character, one who will be remembered a generation from now. In fact, most of the characters in this show work terrifically (with the exception of Kimmy's stepdad, whose only notable quality is that he's a terrible, boring person).
A great cast and a terrific script set this up for an even better second season.

…

Expand

Good show ......
Fresh plot
Good actors Great script. --negs Episodes are short Only on NETFLIX Only 1 season so farGood show ......
Fresh plot
Good actors
Great script.
--negs
Episodes are short
Only on NETFLIX
Only 1 season so far

*******OVERALL*********
Funny show, has exciting episodes and hilarious humor in it
Overall grade B+ 87%

…

Expand

This show is very inconsistent and all over the place, some episodes are great - only when Jane Krakowski (Jacqueline) is on them, and some

This show is very inconsistent and all over the place, some episodes are great - only when Jane Krakowski (Jacqueline) is on them, and some are terrible, when Jane is not on them - the actress should get her own show. The birthday party episode was just plain terrible.

…

Expand

Pretty much shockingly bad. I can't imagine anyone with a brain liking this. Is it made for kids or something? I would rather read a book,

Pretty much shockingly bad. I can't imagine anyone with a brain liking this. Is it made for kids or something? I would rather read a book, than watch this garbage.

…

Expand