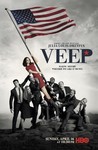 Starring:

Julia Louis-Dreyfus

,

Kevin Dunn

,

Matt Walsh

Summary:

Vice President Selina Meyer (Julia Louis-Dreyfus) continues to pursue a larger influence as she travels to Detroit, London, and Silicon Valley.

Genre(s):

Comedy
Season 3 premiere date:

Apr 6, 2014

Episode Length:

30
Please enter your birth date to watch this video:
You are not allowed to view this material at this time.
[Silicon Valley is] paired with the third season of the savagely hilarious Veep, this combo promises to be HBO's most robust and certainly most entertaining comedy hour in years.

[A] fast, funny political satire. [14 Apr 2014, p.49]

Veep has become the clearest heir to 30 Rock and Arrested Development, and specific bits throughout the season recall both series.

Line for outrageous line, Veep is still a wickedly funny gut-buster. Yet while I could relate to Selina the perpetually marginalized chump, flailing to advance, Selina the stumping, power-grabbing candidate risks confusion.

The show works because all of its actors seem so human, so likeable, despite the words coming from their mouths.

The show's as cynical as ever, but it doesn't feel nearly as empty. Selina's more of an actual character--and has become an accomplished slinger of four-letter verbiage in her own right--and even if the team's screw-ups remain inevitable, the ways in which they screw up feel far less predictable.

Veep remains pretty well defined by its protagonist's inherent plight: noteworthy, yes, but still a significant step away from true greatness.
Each season has gotten funnier and the situations make it a hilarious political satire. Very well written and the acting is outstanding! Julia

Each season has gotten funnier and the situations make it a hilarious political satire. Very well written and the acting is outstanding! Julia Louis-Dreyfus is perfect for her character and it shows in every episode!

…

Expand

One of the best written and acted sitcoms on TV, The cast is amazing, particularly Dreyfus, Hale, and Chlumsky. And it gets better and better

One of the best written and acted sitcoms on TV, The cast is amazing, particularly Dreyfus, Hale, and Chlumsky. And it gets better and better as it goes on

…

Expand

A brilliant show led by Comedic God Julia Louis-Dreyfus, each season proves to be better than the previous one. The writing is great, the cast

A brilliant show led by Comedic God Julia Louis-Dreyfus, each season proves to be better than the previous one. The writing is great, the cast is perfect. If this show doesn't win Best Comedy Series at The Emmys, I am going to be mad.

…

Expand

The show is the Winter Olympics that's geared to a certain group compared to all the Summer Olympic programming out there that try to appeal

The show is the Winter Olympics that's geared to a certain group compared to all the Summer Olympic programming out there that try to appeal to the masses. I'll watch a few episodes and just feel like I wasn't invited to the party, got in because I had a friend who needed a plus one, and the show will just talk about you behind your back when you leave. It's incredibly smart, it's just hard to find many of the characters likable. Unlike a show like Silicon Valley, where you're introduced to a world within a world and you may know very little about the content structure they find ways to let you in, gives the characters common flaws that you can relate too and makes them genuine, Veeps characters seem like they want little to do with you.

In the end not every show has to be catered to everyone. I almost watch this show as a homework assignment, just understand the content and if I ever run into that conversation at a party I'll have an idea on the subject matter, but will probably keep my opinion of it to myself. The fans don't need my take, the show has a bright future and there is little that it should change, its good to have programming that isn't dumbed-down. You don't get the show tough luck, you can either stick around and eventually you'll get it or you can just go back to watching sports center or another talent show that produces one hit wonders..

…

Expand

I loved the first two seasons of Veep but the third season has jumped the shark. The humor and storyiines have become more and more

I loved the first two seasons of Veep but the third season has jumped the shark. The humor and storyiines have become more and more potty-mouthed, overly crude and, worst, unclever.

Whereas the first two seasons felt as though they could really be happening and hewed close to the real Washington with devastating effectiveness, Season 3 has shot off into fantasyland and ridiculous over-the-top scenarios, like Jonah's web site madness and the Veep's affair with her trainer.

The stories are scattershot and don't cohere, broad humor is inserted to fill in for the lack of interesting plots and characters are forced into stupid and demeaning "bits" that leave us cold, don't relate well to a broader storyline, and make their characters unappealing, shallow and empty, whereas before they each had some kind of gold in them, brilliantly interwoven. The whole running for President storyline is a disaster. And Selena is just mean and cuckoo now, not hapless, lost and yet serious and winning in her charming way as before.

Really a shame. This was a very well done show in seasons 1 and 2. My guess is that some of the writers left or they ran out of ideas. Any way you look at it, this show has fallen down, badly. I hope it can push the emergency lief-alert button and find some way to get back up. It was a hoot when it stayed very close to real life. It has veered into pointless nuttiness with half the payoff.

…

Expand

Show kind of feels like it's followed the arc of "The Simpson"--started out clever, witty, with a heart, and now has degenerated into broad

Show kind of feels like it's followed the arc of "The Simpson"--started out clever, witty, with a heart, and now has degenerated into broad caricature that just feels empty.

…

Expand

This is the lamest show I've ever seen in my life. I can't believe it's considered to be a comedy. It hasn't made me laugh even once, ever.

This is the lamest show I've ever seen in my life. I can't believe it's considered to be a comedy. It hasn't made me laugh even once, ever. Don't watch it

…

Expand