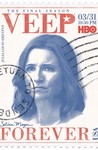 Creator:

Armando Iannucci

Season 1 premiere date:

Apr 22, 2012

Episode Length:

30
Please enter your birth date to watch this video:
You are not allowed to view this material at this time.
Everything you fear might be true about how our government works--or doesn't--becomes hilarious fodder for Veep's biting satire.

Iannucci and his cast are as deft with a wonky policy joke as they are with good old-fashioned bathroom humor and Louis-Dreyfus shines, throwing herself, as she so often did on "Seinfeld" and "The New Adventures of Old Christine," physically into the role.

The comedy here, as with Elaine, comes from watching Louis-Dreyfus's sophisticated, furiously sharp timing applied to a character who has the intelligence of a finch. [30 Apr 2012, p.35]

As a workplace comedy with a political bent Veep is both fun and funny, its nonpartisan position more a missed opportunity than fatal flaw.

Veep has some funny lines and sight gags during the course of doing its dirty Washington business.

It's all rather weightless: just your usual sitcom-style misunderstandings and bruised egos and "complications ensue," with no sense that anything larger is at stake.

Mistaking vulgarity for comic edge and very thinly stretched punnery for wit, Veep is less a trenchant satire about contemporary politics than it is a relentlessly mean-spirited spectacle about crummy people.
Made me laught out loud in every episode at least three times. And thats hard for a comedy nowadays. The cast has superb acting skills and

Made me laught out loud in every episode at least three times. And thats hard for a comedy nowadays. The cast has superb acting skills and JLD's acting is emmy-worthy.

…

Expand

This show is smart, hilarious and the writing is great. Julia Louis-Dreyfus is wonderful as Selina Meyers and so is the rest of the cast in

This show is smart, hilarious and the writing is great. Julia Louis-Dreyfus is wonderful as Selina Meyers and so is the rest of the cast in their roles. If you're looking for a show that can make you laugh a lot every episode, this is it!

…

Expand

One of the best series I've ever watched, funny, intelligent... It's really SUPER cool. Besides, the actor are great and script as well, I

One of the best series I've ever watched, funny, intelligent... It's really SUPER cool. Besides, the actor are great and script as well, I recommended Veep.

…

Expand

Watched the first 4 episodes at this point, the cast isn't completely settled and comfortable yet but it has great potential. Julia definitely

Watched the first 4 episodes at this point, the cast isn't completely settled and comfortable yet but it has great potential. Julia definitely carries it for now, but I wouldn't call the others miscast, they fit really well. Of the new shows this year, this is the one I look forward to the most every week.

…

Expand

Always funny, often hilarious. Great dialogues, although sometimes too technical for a non native English speaker as me. Julia Louis-Dreyfus

Always funny, often hilarious. Great dialogues, although sometimes too technical for a non native English speaker as me. Julia Louis-Dreyfus is amazing

…

Expand

Most of the jokes fall flat and the story left me wanting more. There's so much potential with a concept like this, and it's disappointing

Most of the jokes fall flat and the story left me wanting more. There's so much potential with a concept like this, and it's disappointing that HBO fails to get it to its full potential.

…

Expand

This is the lamest show I've ever seen in my life. I can't believe it's considered to be a comedy. It hasn't made me laugh even once, ever.

This is the lamest show I've ever seen in my life. I can't believe it's considered to be a comedy. It hasn't made me laugh even once, ever. Don't watch it

…

Expand