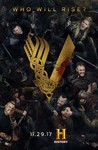 Starring:

Jessalyn Gilsig

,

Kevin Durand

,

Linus Roache

Summary:

Ragnar (Travis Fimmel) leads his people to Wessex to learn if the promises of King Ecbert (Linus Roache) are true.

Genre(s):

Drama

,

Action & Adventure
Season 3 premiere date:

Feb 19, 2015

Episode Length:

60
Please enter your birth date to watch this video:
You are not allowed to view this material at this time.
All involved are dedicated to the cause of making Vikings one of television's most striking series. It's also emerged as one of the best, evolving from a guilty pleasure at first to a first-rate tale of substance and even subtlety mixed with the cold steel of primal warfare.

Hirst transports us to a fascinating and brutal world, combining fact with fast-paced fiction into a show, the likes of which come around all too infrequently. As Ragnar does, so too does Season Three of Vikings expand its worldview beyond the inlet at Kattegat and into Medieval Europe, promising battles, glory, and adventures not to be missed.

Michael Hirst's saga of pillaging and migration remains everything it has been almost from its premiere.

While this is essentially the popcorn version of a quality serialized drama--with more overt appeal to men than most--Vikings--is the sort of nifty endeavor that can give the idea of shamelessly marauding in search of loot a good name.

Here is a series for an American audience that grants us the intelligence to be able to read subtitles, which are deployed to help convey the tart flavor of the various tongues spoken in the show. Combine this with the show's frequently lovely visuals, and Vikings remains the kind of burly soap opera that appeals to an ever-wider audience.

This is a show that knows exactly what viewers expect of it, and over the course of its three seasons, the saga of reticent raider Ragnar Lothbrok (Travis Fimmel) has shown increasing assuredness and has unpretentiously and reliably supplied exciting and bloody adventures.

Vikings has benefited all along from the accomplished, subdued performances of a number of its cast, including Mr. Byrne, Mr. Roache, Clive Standen as Ragnar's warlike brother and both Nathan O'Toole and Alexander Ludwig, who play Ragnar's son Bjorn at different ages. But the heart of the show remains Mr. Fimmel's smirking, withdrawn, not quite good but certainly distinctive performance as Ragnar.
The best show on TV!

Honestly, it's brilliant. LOVE the characters, the progression, the plots, the acting, the scenery. It's the best showThe best show on TV!

Honestly, it's brilliant. LOVE the characters, the progression, the plots, the acting, the scenery. It's the best show out there.

…

Expand

This show gets better and better as it goes on. It's one of the few shows where there's no filler to skip through. Season 3 is epic in every

This show gets better and better as it goes on. It's one of the few shows where there's no filler to skip through. Season 3 is epic in every sense. This is becoming a must see show.

…

Expand

From the first season I was hooked!
I don't have the patience for weak characters on a episode much less an entire season. Everyone hasFrom the first season I was hooked!
I don't have the patience for weak characters on a episode much less an entire season. Everyone has their own strengths, respectively.
What the issues are make a lot of sense if you believe in the twisted, sacrificial practices of the Vikings.

…

Expand

Vikings had me hooked since day 1. But the last season didn't really bring the same quality out as the first two seasons. The show seems to be

Vikings had me hooked since day 1. But the last season didn't really bring the same quality out as the first two seasons. The show seems to be loosing its unpredictable quality.
Actors are still doing a great job. The special effects are as always great. Not a 10 this time but a 8+

…

Expand

An excessively slow season. The conflict never seems to be clear and when the time comes it seems to speed things up in order to get a more

An excessively slow season. The conflict never seems to be clear and when the time comes it seems to speed things up in order to get a more dramatic momentum like the death of Athelstan.

The last 3 episodes are the ones that save it from becoming the worst season.

…

Expand

still good but stuttering more until we get to Paris. The plot seems to be slowing down and unsure where to go.

I enjoyed the show up until the sex and porn, I gave the show numerous chances and watched it up until mid season 3. Even though Vikings are

I enjoyed the show up until the sex and porn, I gave the show numerous chances and watched it up until mid season 3. Even though Vikings are all about raping and pillaging, I don't wish to watch porn. I am sick of all the sex on TV and its getting way out of hand with all the perverts in Hollywood and in the Networks. I stopped watching the show after the episode tonight.

…

Expand