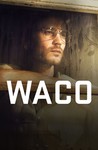 Summary:

The six-part series chronicles the events that led to the 51-day standoff between the Branch Davidians, led by David Koresh (Taylor Kitsch) and the Bureau of Alcohol, Tobacco, and Firearms (ATF) and the FBI, including lead FBI negotiator, Gary Noesner (Michael Shannon).

Genre(s):

Drama

,

Movie/Mini-Series
Show Type:

Mini-Series

Season 1 premiere date:

Jan 24, 2018

Episode Length:

60
Please enter your birth date to watch this video:
You are not allowed to view this material at this time.
It doesn't go nearly as far as it could've, given what a quietly charismatic star it has in Taylor Kitsch as David Koresh, and how immediately human all of his followers seem. All that being said, this is still a necessary and sometimes powerful series, particularly in the third hour, which depicts the initial assault on the compound that led to the two-month siege.

In every case, the actor elevates the material, raising passable storytelling to a more compelling and charismatic level.

Waco has a clunky couple episodes that fail to really depict the passage of time cleanly and probably will leave many viewers confused as to which agencies are making which blunders, even if they have their initials on their jackets. The third episode gets back into the initial raid in harrowing, well-directed style and it may give me enough momentum to watch the second half of the series, just to see if David Koresh ever does anything wrong.

Waco is a workmanlike summary of events that paints a largely, some might say excessively, sympathetic portrait of Koresh and his followers. This is likely because of the demands of dramatic compression rather than any propagandizing on the part of the show's makers.

Skimming the treatment Koresh's manipulative dark side in Waco, a story that puts the humanity of the Branch Davidians and that of Koresh at its forefront feels ... weird. And this is but one of several niggling oversights in a story that begs for a new consideration.

[Waco] does its best when working on the tension that grows between the Branch Davidians and the ATF. ... With the cliche dialogue and the dead-air drama within the group about David's power over women played by Riseborough, Benoist and Garner, they struggle to make the series more than a half-intriguing non-fiction spectacle, albeit with Kitsch's strong performance guiding the way.

Waco isn't skillful enough to weave all the opposing perspectives here into a three-dimensional story, where the ultimate victims are the innocent folk betrayed by their leader and their government. It's so busy delivering Spam-sized chunks of ham-fisted dialogue defending the misunderstood Koresh, it loses all those other critical threads that make Waco a cautionary tale for all sides.
Kitsch is amazing, and the story is very compelling - especially as the events depicted actually occurred. One of the best shows I've seen in

Kitsch is amazing, and the story is very compelling - especially as the events depicted actually occurred. One of the best shows I've seen in a long time.

…

Expand

A powerful and disturbing account of the events at Waco, Texas with David Koresh and the Branch Davidians. It shook me to my core, and had me

A powerful and disturbing account of the events at Waco, Texas with David Koresh and the Branch Davidians. It shook me to my core, and had me searching for answers to what really happened there.

…

Expand

Waco is really good, I'm surprised there's no real buzz around it. I've never heard of what went down there in 1993 so I'm really glad there's

Waco is really good, I'm surprised there's no real buzz around it. I've never heard of what went down there in 1993 so I'm really glad there's a show to tell this tragic story. The first three episodes are genuinely great. The mainly objective storytelling and the clashing of multiple ideologies with a quite profound (religious) morality element surprised me. It all had a strong True Detective vibe. After a phenomenally thrilling third episode things kinda go south though. The last half does away with the intriguing intellectual themes and becomes a straighforward retelling of the events (gradually turning more and more subjective as well) making it far less engaging or interesting. Still I'd highly recommend Waco, the true story is stranger than fiction, the main cast is absolutely fantastic (the best performance I've ever seen from Kitsch) and those first three episodes, man are they f#cking great.

…

Expand

While sequence of events are paced adequately in this mini-series to keep audience engaged, story line is seemed to be biased and Taylor

While sequence of events are paced adequately in this mini-series to keep audience engaged, story line is seemed to be biased and Taylor Kitsch's performance as a cult leader requires more work.

…

Expand

Despite being more of a retelling of events rather than a constructive dissection of the events and reason behind the events that unfolded

Despite being more of a retelling of events rather than a constructive dissection of the events and reason behind the events that unfolded near Waco, "Waco" is nevertheless a thrilling, well-acted (especially by Michael Shannon), and compelling miniseries.

…

Expand

It tells a tragic true story which depicts the U.S government as the 'bad guy' because of their arrogance and trying to keep their glory high,

It tells a tragic true story which depicts the U.S government as the 'bad guy' because of their arrogance and trying to keep their glory high, which leads to a lot of dead people. Also disrespecting regulations. Plus the FBI is going through a changing time and this causes them to act more in violence rather than negotiating. The directing style is really basic and it makes it a chore to watch at some times. Visuals and sound was great. The actors did a great job, no wonder the series had so big names in the cast. They outperformed in my opinion. I loved Taylor Kitsch's acting roles until now but this made me hate him so much. He performed so well that from now on when I will see him I will think Waco. But the actors are just not enough to save this show. So overall it's an average TV series, which could have been a lot better without the massive pacing issues and the rest of the faults. Because sadly the actors are just not enough to save this show.

…

Expand