Please enter your birth date to watch this video:

You are not allowed to view this material at this time.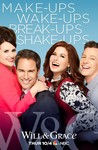 Series Details & Credits
NBC |
Release Date:
September 28, 2017
Summary:
The multiple Emmy-winning comedy returns with Will and Grace living together again at their New York apartment with Jack as their neighbor. While Karen is living at her mansion as the revival ignores the final episode of season eight.
Seasons & Episodes
Season 2

Season 2 Overview

Air Date: October 4, 2018

S2:E18. Jack's Big Gay Wedding

Air Date: April 4, 2019

S2:E17. The Things We Do For Love

Air Date: March 28, 2019

S2:E16. Conscious Coupling

Air Date: March 21, 2019

S2:E15. Bad Blood

Air Date: March 14, 2019

S2:E14. Supreme Courtship

Air Date: March 7, 2019

S2:E13. The Real McCoy

Air Date: February 28, 2019

S2:E12. The Pursuit of Happiness

Air Date: February 21, 2019

S2:E11. The Scales of Justice

Air Date: February 14, 2019

S2:E10. Dead Man Texting

Air Date: February 7, 2019

S2:E9. Family, Trip

Air Date: January 31, 2019

S2:E7. Anchor Away

Air Date: November 29, 2018

S2:E7. So Long, Division

Air Date: November 29, 2018

S2:E6. Kid 'n Play

Air Date: November 8, 2018

S2:E5. Grace's Secret

Air Date: November 1, 2018

S2:E4. Who's Sorry Now?

Air Date: October 25, 2018

S2:E3. Tex and the City

Air Date: October 18, 2018

S2:E2. The West Side Curmudgeon

Air Date: October 4, 2018

S2:E2. Where in the World Is Karen Walker?

Air Date: October 11, 2018

S2:E1. Where in the World is Karen Walker?

Air Date: October 4, 2018

Season 1