Please enter your birth date to watch this video:

You are not allowed to view this material at this time.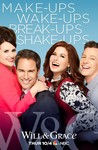 Episode Details & Credits
NBC |
Air Date:
November 29, 2018
Summary:
Jack convinces Will to act silly and stupid in order to attract a handsome, gay TV news anchor with a pension for dim, frothy men. Karen learns that her alimony will be severely limited unless she can get photos of her ex-husband's affair with Lorraine Finster, so she enlists Grace to go with her to the strip club where Lorraine works.
Seasons & Episodes
Season 2

Season 2 Overview

Air Date: October 4, 2018

S2:E18. Jack's Big Gay Wedding

Air Date: April 4, 2019

S2:E17. The Things We Do For Love

Air Date: March 28, 2019

S2:E16. Conscious Coupling

Air Date: March 21, 2019

S2:E15. Bad Blood

Air Date: March 14, 2019

S2:E14. Supreme Courtship

Air Date: March 7, 2019

S2:E13. The Real McCoy

Air Date: February 28, 2019

S2:E12. The Pursuit of Happiness

Air Date: February 21, 2019

S2:E11. The Scales of Justice

Air Date: February 14, 2019

S2:E10. Dead Man Texting

Air Date: February 7, 2019

S2:E9. Family, Trip

Air Date: January 31, 2019

S2:E7. Anchor Away

Air Date: November 29, 2018

S2:E7. So Long, Division

Air Date: November 29, 2018

S2:E6. Kid 'n Play

Air Date: November 8, 2018

S2:E5. Grace's Secret

Air Date: November 1, 2018

S2:E4. Who's Sorry Now?

Air Date: October 25, 2018

S2:E3. Tex and the City

Air Date: October 18, 2018

S2:E2. The West Side Curmudgeon

Air Date: October 4, 2018

S2:E2. Where in the World Is Karen Walker?

Air Date: October 11, 2018

S2:E1. Where in the World is Karen Walker?

Air Date: October 4, 2018

Season 1