Network:

CBS

Series Premiere Date:

Sep 25, 2017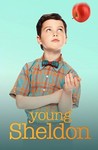 Summary:

The spinoff from The Big Bang Theory focuses on a nine-year-old Sheldon Cooper (Iain Armitage) as he begins high school in East Texas.

Genre(s):

Comedy
Season 1 premiere date:

Sep 25, 2017

Episode Length:

30
Please enter your birth date to watch this video:
You are not allowed to view this material at this time.
It's that focus on family, with Sheldon as an oddity and an outsider but still loved, that makes Young Sheldon sweeter than The Big Bang Theory. ... Although the humor--in the show's pilot at least--is less reliant on what most people would call "jokes" and more reliant on "a tiny child in a bowtie saying the word 'brassiere,'" as far as sitcoms go, it's inoffensive and as comforting as Mrs. Cooper's tater tots.

Young Sheldon has a certain Wonder Years glow to it. The challenge for the show going forward is to keep young Sheldon a believable, likable kid while also emphasizing the eccentric qualities that make him an effective comic creation. From this first episode, it really feels as though that's not going to be a problem.

Young Sheldon is a smarter, more humorous and heartfelt show than "The Big Bang Theory." Adult Sheldon is entertaining, but young Sheldon is even better.

What's funny in Sheldon/adult is grating in Sheldon/child.

With all these elements working in its favor, scale back on the titular character and give Missy and the mom some more individual airtime and you might have something worth its timeslot.

Basically, the brilliant brat is amusing, but in The Big Bang Theory, what's more amusing is the people who choose to be with him; in Young Sheldon what's more amusing is the people who don't have the choice but have to be with him. The pilot for Young Sheldon isn't there yet. It's too hung up on a main character we know isn't going to and can't change for the better.

One thing everybody will be able to agree on, though, is that the 9-year-old version of Sheldon in the Big Bang spinoff Young Sheldon is not ready for prime time or even the pre-dawn hours of a public-access channel. This prequel about Sheldon's childhood in rural Texas, surrounded by an uncomprehending family and a hostile town, is hideously misconceived.
Pretty good pilot. They played Sheldon to make him a likeable child. And we feel more sympathetic to him now that we actually see his

Pretty good pilot. They played Sheldon to make him a likeable child. And we feel more sympathetic to him now that we actually see his upbringing. I really thought the mom was a great choice and so much like the sitcom mom. I like that it's more of a drama/comedy than a sitcom. And no laugh track is refreshing as that really is a dated practice. Works for Big Bang, but not every funny show can pull it off. Looking forward to the next episode!

…

Expand

Me parece una gran serie en lo que al meterse al personaje se refiere, ver como crecio Sheldon, Conocer a su familia, su entorno y los

Me parece una gran serie en lo que al meterse al personaje se refiere, ver como crecio Sheldon, Conocer a su familia, su entorno y los personajes secundarios que sin duda tienen un algo diferente para quedarte horas viendo capitulo tras capitulo

…

Expand

First episode was great. It's awesome to see all little bits they add from Sheldon's childhood stories on BBT.

First episode was great. It's awesome to see all little bits they add from Sheldon's childhood stories on BBT. .

…

Expand

The pilot is funnier than expected, but the humor is undermined a bit by what an insufferable ass Sheldon is. For every 1 funny thing he says,

The pilot is funnier than expected, but the humor is undermined a bit by what an insufferable ass Sheldon is. For every 1 funny thing he says, he says like 5 things where the cringe level is just too damn high. But then that's kinda how the show works, that contrast is supposed to make it funny. Having adult Sheldon narrate was a mistake, he just interrupts and doesn't really add any value, but at least in this episode there wasn't that much of him. His sassy sister pretty funny.

This particular episode was good but there's a lot of ways more episodes could very easily go very bad.

…

Expand

It is not as funny as The Big Bang Theory, but the characters are more fleshed out and realistic. People that liked TBBT mostly for the

It is not as funny as The Big Bang Theory, but the characters are more fleshed out and realistic. People that liked TBBT mostly for the one-liners and insults might find this show a bit boring. Those that were turned off by those traits in TBBT might be able to enjoy Young Sheldon.

Personally, I enjoy both shows.

…

Expand

The biggest problem with the show is the shadow of Big Bang Theory looming over it. Whether it's the voice of adult Sheldon jumping into the

The biggest problem with the show is the shadow of Big Bang Theory looming over it. Whether it's the voice of adult Sheldon jumping into the episode several times or the fact that we already know what kind of person young Sheldon is going to grow up to be, the show is being dragged down by this constantly. The fact that young Sheldon will eventually have to grow up to be adult Sheldon leaves very little potential space for character development, and even though the writers tried their best in the pilot to make Sheldon grow somehow, ultimately they can't have him become a normal person by the end of the series, unless they wrote in the retcon to trump all retcons.

Aside from that, the fact that young Sheldon is the kind of child that makes you want to root for the bullying of outsiders doesn't help the show either. People can usually identify with outsiders in some way, but I fear that very few people will be able to find a piece of themselves in this kid.

…

Expand

Was horrified by tonight's episode. Anyone with connection to the Vietnam War or feelings about racism, sexism, probably more I may have

Was horrified by tonight's episode. Anyone with connection to the Vietnam War or feelings about racism, sexism, probably more I may have missed would be horrified. is this the same writers that do such a terrific job of Big Bang? I hope not. I understand about taking jabs at some of the ideologies but really? Soooo disappointed with the blatant references that I think this is my last viewing. FYI, my brother was a soldier in Viet Nam and he always spoke with respect for the people of the country.

…

Expand