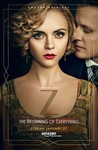 Summary:

The life of Zelda Fitzgerald (Christina Ricci) is chronicled from her first meeting with F. Scott (Gavin Stenhouse in the pilot and David Hoflin in the rest of the season) in 1918 in the drama series based on the novel by Therese Anne Fowler.

Genre(s):

Drama
Season 1 premiere date:

Jan 27, 2017
For Fitzgerald fans, wannabe Fitzgerald fans, or even people who can appreciate a well-done period drama, Z has a lot to offer, even as it gives us lots to think about.

Ricci serves as an executive producer and delivers the best work of her career. ... Z is helped by an unusual format--the drama unfolds in 10 half-hour episodes, making it especially binge-worthy. More providers should try half-hour dramas. They don't feel like endurance challenges, as many one-hour shows do.

Z: The Beginning of Everything tries to capture the many facets of this complex and conflicted woman, and does so with some success. There are moments when it's exhilarating to be immersed in the 1920s with Great Gatsby author F. Scott Fitzgerald (David Hoflin) and his wife/muse (a fierce, focused Christina Ricci).

The story itself is interesting, if well-known, but the series is overacted, over-accented, and overwritten. [27 Jan 2017, p.55]

Ricci is certainly convincing as a Southern Belle, and she helps make "Z" reasonably watchable. But when Scott grumbles in a later episode -- well before publishing "The Great Gatsy" -- "What if I never finish anything again?," there's a question whether, as a viewer, it's worth hanging around long enough to see him do it.

The story lacks much in the way of momentum other than the downward spiral of too much booze, too little creation of art. Z: The Beginning of Everything is a spiffy soap opera, but not much more than that.

It's possible that an acceptable performance could have patched over some of the cavernous inconsistencies in Zelda's characterization, but Ricci's performance is abominable.
I don't understand why this series didn't get more love. Ricci was excellent as Zelda. Yes, too old, but she's one of those people who

I don't understand why this series didn't get more love. Ricci was excellent as Zelda. Yes, too old, but she's one of those people who generally looks younger than her age, so she gets away with it. The rest of the cast is also quite good and the period detail is first rate.

I wish the series had been renewed; it would have been interesting to see Zelda's descent into madness.

…

Expand

The half hour format works really well, the actors have great chemistry, the performances are great, and the scenery is terrific. That only

The half hour format works really well, the actors have great chemistry, the performances are great, and the scenery is terrific. That only things that hold the show back are the peculiar casting, (Ricci plays her part very well, but she's clearly older than her character is intended to be), and despite all the many positives, nothing really sets it apart from similar shows; If you dig romance and drama, especially time pieces, I see no reason why someone wouldn't enjoy it.

…

Expand

As someone very interested in both Zelda and Scott Fitzgerald, I found the series disappointing. Not too surprisingly, it's more interested in

As someone very interested in both Zelda and Scott Fitzgerald, I found the series disappointing. Not too surprisingly, it's more interested in their "dysfunctional" relationship than in their prodigious talents--or the way they briefly embodied a unique (and deeply conflicted) cultural moment. While never uttering pop-psychological buzzwords such as "codependency," the series occasionally seems to treat the protagonists as case studies, even cautionary tales. Toward the end, I half-expected Max Perkins or Zelda's parents to arrange an intervention. Lots has been written about Ricci, and I have to say I give her a about a "5," too. I don't care that she's too old, and I appreciate how hard she tries to nail the performance. But, for me, she's an actor who never disappears into a role; I'm always aware that I'm watching Christina Ricci as whoever. Sometimes that works, but here it's distracting. I'll keep watching because I would probably watch sock puppets play the Fitzgeralds on a cardboard-box stage. Z is better than sock puppets, but it needs to be "more better."

…

Expand

This would have to be one of the most boring plots I have ever had the misfortune to sit through. Dull is not even close to the tepid paced

This would have to be one of the most boring plots I have ever had the misfortune to sit through. Dull is not even close to the tepid paced events that slowly crash down upon your mind.

…

Expand