| Based on a True Story: Season 1 | Arnold | Burden of Proof |
| --- | --- | --- |
| | | |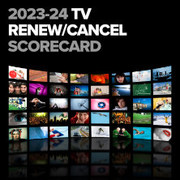 Find up-to-date renewal and cancellation status information on every broadcast, cable, and streaming TV series airing during the 2023-24 season. You can also find premiere dates and Metascores for each show.
1.

Party Down: Season 3

More than 10 years later, the third season returns to finds the catering team working other jobs, but when they are surprisingly reunited, they find themselves in familiar roles once again.

2.

I Think You Should Leave with Tim Robinson: Season 3

The sketch comedy series from Tim Robinson returns for a third season.

3.

Sweet Tooth: Season 2

Gus (Christian Convery) and other hybrids are held prisoner by General Abbot (Neil Sandilands) and the Last Men to be used as guinea pigs by the imprisoned Dr. Aditya Singh (Adeel Akhtar) to find a cure to a sickness that is killing people.

4.

Succession: Season 4

The family continues to be divided as the sale of Waystar to Lukas Matsson (Alexander Skarsgård) moves closer to being final.

5.

White House Plumbers: Season 1

E. Howard Hunt (Woody Harrelson) and G. Gordon Liddy's (Justin Theroux) plots include the Watergate break-in that led to the end of Richard Nixon's presidency in this satirical drama miniseries from David Mandel, Peter Huyck, and Alex Gregory.

6.

Barry: Season 4

Barry is prison in the fourth and final season of the dark comedy from Bill Hader and Alec Berg.

7.

Primo (2023): Season 1

16-year-old Rafa Gonzales (Ignacio Diaz-Silverio) is being raised by his mother (Christina Vidal) and five uncles in San Antonio in this coming-of-age comedy inspired by Shea Serrano's life.

8.

The Legend of Vox Machina: Season 2

The Vox Machina seven have to save the world again, this time from the Chroma Conclave dragons in the second season of the animated series.

9.

The Other Two: Season 3

Despite being in the shadows of their pop star younger brother and talk-show host mother, Brooke and Cary have found successful careers three years later in the third season of the comedy that is now on HBO Max.

10.

Clarkson's Farm: Season 2

Top Gear's Jeremy Clarkson looks to improve on last year's profit of £144 by opening a restaurant in the second season of the reality series.