| RAMY: Season 2 | Space Force: Season 1 | Central Park: Season 1 |
| --- | --- | --- |
| | | |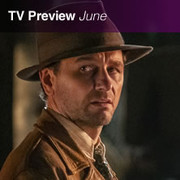 Get details on Perry Mason, Twilight Zone, and more of the most intriguing TV shows debuting in June--as well as the top new movies to watch at home, including new films from Judd Apatow and Spike Lee.
1.

Looney Tunes Cartoons: Season 1

Bugs Bunny, Daffy Duck, Elmer Fudd, Foghorn Leghorn, Pepé le Pew, Sylvester, Porky Pig, Taz, Tweety Bird, and Yosemite Sam are just some of the Warner Bros. characters who return with new stories.

2.

The Last Dance: Season 1

The 10-part documentary series directed by Jason Hehir about Michael Jordan and the Chicago Bulls' 1997-98 championship season includes interviews and never-before-seen footage.

3.

Better Call Saul: Season 5

Jimmy decides to practice law as Saul Goodman and it changes everything.

4.

BoJack Horseman: Season 6.5

The second half of the final season of the animated comedy.

5.

What We Do in the Shadows (2019): Season 2

Mark Hamill will guest star on the second season of the comedy based on the 2014 film of the same name.

6.

The Expanse: Season 4

The fourth season moves to Amazon's Prime Video as the expansion to a new group of planets beyond the Ring Gate causes more tension as inhabitants of Earth, Mars and the Belt rush to colonize them.

7.

Normal People: Season 1

Set in Ireland, the complicated relationship between the wealthy bur lonely Marianne (Daisy Edgar-Jones) and Connell (Paul Mescal), the son of her family's house cleaner, begins in secret as teenagers but everything changes once at Trinity College in this 12-episode limited series based on Sally Rooney's novel of the same name.

8.

Ozark: Season 3

Wendy and Marty are at odds as to whether to expand their new venture or not. The arrival of Wendy's brother Ben (Tom Pelphrey) only creates more problems in season three of the drama created by Bill Dubuque.

9.

Brooklyn Nine-Nine: Season 7

Vanessa Bayer is set to guest star in the seventh season of the comedy (which is its second on NBC).

10.

Harley Quinn: Season 2

Season two of the animated comedy series introduces Catwoman (voiced by Sanaa Lathan) and Mr. Freeze (voiced by Alfred Molina).