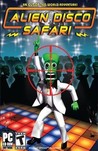 Summary:
In the fall of 1977, NASA launched Deep Probe Nine into space. In hopes of making contact with extraterrestrial life forms, scientists crammed the shuttle with cultural mementos, photos, and even disco records! Some years later, Deep Probe Nine was picked up by an alien species who took an unearthly liking to the disco records and now they've invaded Earth in search of disco! Load up your weapons and stop them before it's too late!
Designer/Producer/Programmer credits provided by
GameFAQs
.
If you contributed to this game and feel you should be credited, please read our
FAQ
.