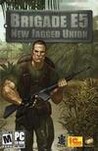 Summary:
Brigade E5: New Jagged Union is set in the fictional, small tropical country of Palinero. Players are required to assemble a band of mercenaries and take control of a rapidly deteriorating situation in order to survive the imminent civil war and avoid having their country left in complete ruins. Brigade E5: New Jagged Union is a tactical strategy title. The story offers players the opportunity to experience three different viewpoints of the conflict, or work outside the political structure to achieve their own goals towards global domination. Game play for the title is based on an innovative combat system called SPM (Smart Pause Mode) that successfully blends together the elements of both real-time and turn-based games. [Strategy First, Inc.]
| | |
| --- | --- |
| Rating: | M |
| Developer: | Apeiron |
| Genre(s): | Strategy, Turn-Based, Modern, General, Modern |
| Number of Players: | 1-8 Players |
| Offline Modes: | Competitive Team Oriented |
| Connectivity: | Pass-and-Play |
| Online Modes: | Competitive Team Oriented |
| Number of Online Players: | 8 Players Online |
Designer/Producer/Programmer credits provided by
GameFAQs
.
If you contributed to this game and feel you should be credited, please read our
FAQ
.