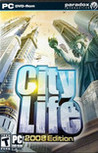 Summary:

The game puts players in the role of an urban planner and real estate developer, designing, building and maintaining every aspect of their creation. The latest version contains an additional 23 maps as well as the possibility to import satellite maps. There are also 60 new buildings includin

g London landmarks such as St. Paul's Cathedral and the Royal Opera House. [Ascaron]

…

Expand
Developer:

Paradox Interactive

Genre(s):

Other Strategy Games

# of players:

1 Player

Cheats:

On GameFAQs

Rating:

T
City Life is a quality simulator that can easily absorb hours upon hours of your time if you let it. If you're a fan of city-building sims, there's no excuse for letting this one pass you by.

It's still worthy of purchase to those that haven't played the original, but to any who have, just play the original for the same experience.

A decent, if not wonderful, city management game - there are some elements that really shine and the most impressive is the management of subcultures within the one city - adding a wonderful real city feel and a welcome innovative twist to the genre. Not as outstanding - but still high quality - are the graphics and level of detail.
The game is very fun.. Atleast as i remember it.. This game used to be the game i Played as a small, and i rather play this than Simcity, and

simcity societies.. It is very fun atuly.. For my old Windows XP it can manage to build a city up too 1 Million without lagg.. Well, this is the 2008 edition.. It wasen't that bad.. but, it is worth the money now.. and i felt amazed when i played this game back in the time.. I recommend this game to everyone! i give it a 9/10, theres some bugs, like the Bus going to taxi and taxi going to bus.. And some stuff i don't get.. But else this is totaly fine.. If you would like more maps and building buy the 2008 Edition.. I don't like how the critics rated this low.. When this game is actuly very fun and good!

…

Expand