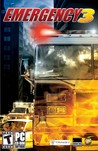 Summary:

You are the head of all rescue units – Fire & Rescue services, Police and specialist personnel are at your disposal. It's your job to see they do theirs! A huge range of realistic emergency resources and vehicles including helicopters, heavy salvage trucks and more. [Strategy First Inc.]
Developer:

Sixteen Tons Entertainment

Genre(s):

Real-Time Strategy

# of players:

1 Player

Cheats:

On GameFAQs

Rating:

T
The vehicles look and sound good, but I would have preferred an update to the sirens used in the US version of the game.

Micromanagement is emphasized, explaining its popularity(in Germany)--so if you're into that, Emergency 3 is an enjoyable RTS. [July 2006, p.67]

Emergency 3 really has a lot going for it, and breathes new life into a stagnant market full of destructive gaming. Still, the nagging issues of a clunky interface, coupled with rather monotonous gameplay, may present some problems.

The problem is that as much as it wasn't a bad game it wasn't a great game either, falling somewhere in the realm of mediocre. Then again...so is most reality TV.
This game is one of the best I've seen, big improvement from Emergencies 1and 2, Like the Techincal and Ambulance service don't loo

k stupid!

…

Expand