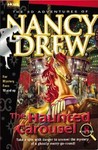 Summary:

Nancy is invited to the Jersey shore to investigate a series of mishaps that have occurred at the Captain?s Cove Amusement Park. The missing lead horse was stolen from the carousel and now, the roller coaster has lost power resulting in a serious accident. Although the park is closed until

the insurance company can investigate the accident, several workers still remain on site. Those workers include the park?s bookkeeper, Joy Trent, who has a peculiar robot companion named Miles; the chief engineer, Ingrid Corey; Harlan Bishop, the security officer and Elliot Chen, the park?s art director. Nancy starts investigating and learns about the reclusive genius, Rolfe Kessler, who carved the carousel in his long forgotten hidden workshop. She also discovers the sad history of the park?s former owner, Daryl Trent, who created the robot, Miles, for his daughter Joy. He hid puzzles and riddles about the park to reunite his daughter with her past. Nancy can only discover the truth behind the haunted carousel after solving a series of puzzles and avoiding several deadly traps. [Atari]

…

Expand
Developer:

Her Interactive

Genre(s):

Adventure Games

# of players:

1 Player

Cheats:

On GameFAQs

Rating:

E
The tightness of the game's construction, plot and location mean that the game is pretty short. This is not a complaint. Nancy Drew books aren't long, and it wouldn't make sense for the games to be epics, either.

The mystery is intriguing and the puzzles interesting to figure out. Kids will have a good time using their brains to decipher lots of clues.

A fun adventure title with some interesting puzzles. However, the rigid control scheme and lack of in-depth interaction detracts from what could have been a much better game.

A fun park is an obvious location for some fun investigating. Add some hauntings for a bit of spice. It's not a spooky game though, so it's suitable for all comers.

The game box touts 20+ hours of gameplay; for their target audience of preteen girls, I am sure this is true, but experienced gamers will finish it in significantly less time. Aside from that though, this game was still very enjoyable to play.
Even if it's quite short it is one of the best ND games. Nice puzzles and excellent music.

Got this game cheap (very cheap), and embarrassingly being an adult, I enjoyed it! It is a young person's story (as you expect from the

books), I would recommend it to the 8 to 10 age bracket, since it is short, clean, polite, fun, nice music, and easy puzzles for an adult, but a kid may have to think more on it. I assume the whole series is like this one, and will not give them a go myself, but playing one out of curiousity is worth the 2-3 hours, and this one is fun. As I said, would be happy to buy this as a present for younger kids, and would recommend it so if ever needing to go that route.

…

Collapse

This game was okay, I mean very fun and very short so since it was a short game the highest score would be 5.