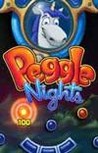 Summary:

The sun has set at the Peggle Institute, but the bouncy delight has just begun! Join the Peggle Masters on a dreamtime adventure of alter egos and peg-tastic action. Stay up late to aim, shoot and clear orange pegs from over 60 levels, and bask in Extreme Fever glory. Then, take on 60 Challe

nges for even more rebounding joy. [PopCap Games]

…

Expand
Developer:

PopCap

Genre(s):

Puzzle

Cheats:

On GameFAQs

Rating:

E
Peggle Nights is crammed with eye and ear candy, all cleverly calculated to reward.

Even though you ultimately don't have all that much control over how games of Peggle play out, PopCap still managed to create an engaging experience by infusing the addictive qualities of slot and pachinko machines into its title through a masterful implementation of sound effects and color.

Final word, Replayability: Beneath this friendly, deceptively simple-looking game lies a smug, mocking worst-enemy waiting to happen—just when you think you're starting to get 'good' at Peggle Nights, you'll come to a new Zen level of understanding at which you realize, in the best meditative sense, that you know zilch, nada, zip, zero, jack-shit, nothing.

Bottom line is this: If you've never played Peggle before, add 15 points to that score and buy this immediately. If you're like me and have already played it to death, be warned that there's nothing new to see here and you may just want to move right along to something different.
Peggle is very fun casual game, but I think more new characters would have been fun. The graphics are slightly improved compared to the first

Peggle game. Still a very fun game.

…

Expand

A great game that has great characters and great graphics. Also a game that is highly recommended for those who like casual games.