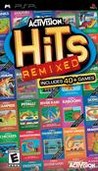 Summary:

Activision Hits Remixed lets PSP system gamers relive the dawn of home console gaming while on the go by delivering over 40 of the biggest Atari 2600 titles, such as Pitfall, Kaboom!, Chopper Command, Stampede, Keystone Kapers, to the PSP. With the game's multi-player supported classics,

Activision Hits Remixed lets PSP system gamers relive the dawn of home console gaming while on the go by delivering over 40 of the biggest Atari 2600 titles, such as Pitfall, Kaboom!, Chopper Command, Stampede, Keystone Kapers, to the PSP. With the game's multi-player supported classics, players can choose whether they want to game together utilizing a Game Share feature that allows two friends to play together using only one copy of the game or take turns on one PSP system or play via the game's wireless functionality. Activision Hits Remixed also features a rockin' 80's themed soundtrack, modernized front-end graphics, classic game manuals which include tips and photographs, and a host of retro unlockables. [Activision]

…

Expand

Developer:

Digital Eclipse

Genre(s):

Compilation

# of players:

1-4

Cheats:

On GameFAQs

Rating:

E
For a retro compilation, Activision Hits Remixed is top notch with one hell of a presentation. The quick-loading feature and its Game Sharing option are two key elements in pushing this collection into the "recommended" category.

Is the game worth it? You bet your ass it is. Forty Atari classics, most of which are entertaining in some way, fantastic emulation, a budget price of $19.99 — what more do you need?

Activision Hits Remixed gives you 40 classic games, a serviceable menu design, and perfect emulation for the games. If you're interested in the lineup, be sure to pick up this collection.

The games run accurately and the package has some nice extras, but the graphics are a little on the blurry side.

A solid retro collection for those looking for stone-age thrills. There are enough good games to care, the miniature '80s revival bit is fun, and the $20 price tag is just about reasonable.

Back when the Atari 2600 reigned, Activision was synonymous with quality, and Activision Hits Remixed does its best to show you why. [Feb. 2007, p.83]

Attaching a score feels a little mean, because in terms of what the games are worth (even collectively) it wouldn't even register on the scale, but as a sensibly priced package it somehow serves its purpose admirably.