Publisher:

SCEA

Release Date:

Oct 26, 2006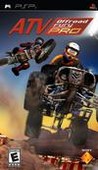 Summary:
Supporting up to four players via wireless multiplayer connectivity, players will speed through more than 30 visually stunning environments with six distinct terrain types including snow, dirt, mud, ice, water, and grass. Featuring five new events, new vehicles and mini-games, and cross compatibility with ATV Offroad Fury 4 for the PlayStation2, ATV Offroad Fury Pro will provide players the opportunity to tackle the trickiest off-road courses anytime, anywhere. [SCEA]

Designer/Producer/Programmer credits provided by
GameFAQs
.
If you contributed to this game and feel you should be credited, please read our
FAQ
.