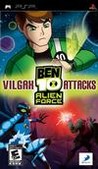 Summary:
In Ben 10 Alien Force - Vilgax Attacks, players take control of Ben and 10 of his most popular alien forms: Echo Echo, Goop, Brain Storm, Chromastone, Big Chill, Humungousaur, Spidermonkey, Swampfire, Jet Ray, and Cannonbolt to manipulate fire, harness electricity, freeze enemies and more. Players will also adventure as alien form Upchuck exclusively in the Nintendo DS version for additional powers to command and explore. will journey to exciting never-before-seen alien home planets on Ben's first interactive intergalactic adventure to battle against a roster of Ben's most infamous villains and foes, including his ultimate nemesis, Vilgax. Offering a solid blend of combat, puzzle solving and platform gameplay, Ben 10 Alien Force - Vilgax Attacks provides hours of gameplay for players of all skill levels. [D3Publisher]

Designer/Producer/Programmer credits provided by
GameFAQs
.
If you contributed to this game and feel you should be credited, please read our
FAQ
.