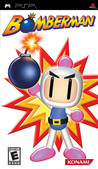 Summary:

Bomberman arrives on the PSP with nostalgic gameplay and a new twist for the next generation of wireless, mobile gaming. An ominous black shadow is creeping towards Bomberman's planet, and sudden attacks by a mysterious robot army have brain-washed the inhabitants of surrounding planets,

Bomberman arrives on the PSP with nostalgic gameplay and a new twist for the next generation of wireless, mobile gaming. An ominous black shadow is creeping towards Bomberman's planet, and sudden attacks by a mysterious robot army have brain-washed the inhabitants of surrounding planets, causing mass chaos. Bomberman must embark on a new adventure through the galaxy to restore peace and order. Normal Mode: the latest Bomberman complete with a new story and 100 levels featuring a new Item Stock system allowing for the collection and strategic use of more items. Classic Mode: based on original classic Bomberman featuring over 50 different levels. Multiplayer Battle Mode: up to 4 players can fight for survival in a variety of highly customizable games across 20 different stages via wireless ad hoc mode. Game Sharing: Up to 4 players can battle from 1 UMD game disc. [Konami]

…

Expand

Developer:

Hudson

Genre(s):

Puzzle

# of players:

1-4

Cheats:

On GameFAQs

Rating:

E
It isn't the uber killer-app the PSP still so desperately needs to showcase what it is truly capable of as the powerhouse portable gaming device it is supposed to be, but regardless of that fact, there can be no denying that Bomberman is among the platform's most entertaining, long-lasting and downright addictive titles yet.

There is not anything new in the latest incarnation of Bomberman, but it does not really matter much. The multiplayer mode has plenty of variety, and we do need the grandfather also on PSP to entertain us and to keep our reflexes sharp. [Mar 2007]

Bomberman is a great rendition of the classic franchise. It's a rare, truly portable game on the PSP. It's fun in short bursts, but thanks to the 150 stages, you'll be playing for hours.

It's quick to pick up and easy to put down which is everything a portable game should be.

This isn't a game trying to reinvent the wheel, but rather one that's just trying to roll along. And if that's what you're looking for, it's a blast.

Shows a certain amount of promise with the new stockpile system and the game sharing feature for multiplayer. Unfortunately, it is hampered somewhat by the ease of gameplay, the overwhelming number of items that simplifies the title, and a mysterious amount of lag and load times during multiplayer play.

If you don't have a DS and you have at least two friends with a PSP, get this game when the price inevitably drops like a stone, as Bomberman titles are prone to do. Otherwise, wait for the DS sequel, complete with online support, and leave this one for your friends looking to justify their PSP purchases.
No online but the game does have upgraded graphics, a classic mode, and a new mode to play. These upgrades make it a remake, not a port of the

No online but the game does have upgraded graphics, a classic mode, and a new mode to play. These upgrades make it a remake, not a port of the classic loved game Bomberman Nes.

…

Expand

i do like the bomberman game like old one,and the UMD Sharing game looks good,but it just like this game need more content like story,online

i do like the bomberman game like old one,and the UMD Sharing game looks good,but it just like this game need more content like story,online thingy and some new characters like old one....There`s nothing wrong about this game.

…

Expand