Publisher:

Konami

Release Date:

May 22, 2007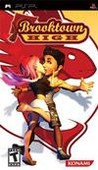 Summary:
If you only knew then what you know now. Here is your chance to re-live your high school days by entering Brooktown High. Choose to play as male or female and create your own unique character. Interact with other students, each with their own distinct personalities and cliques. Find your niche and hang out with jocks, nerds, preppies, and more. This is your senior year and your chance to find the guy or girl of your dreams. Create your own male or female character. Interact with other students with their own unique personalities. Go on dates in locations such as the movies, the beach, the mall, etc. Interactive mini-games. [Konami]
Designer/Producer/Programmer credits provided by
GameFAQs
.
If you contributed to this game and feel you should be credited, please read our
FAQ
.