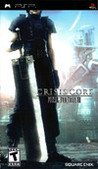 Summary:

Square Enix is brings this role-playing game to the PSP the fourth installment in their Compilation of Final Fantasy VII series which includes the movie "Final Fantasy VII: Advent Children," the game "Dirge of Cerberus: Final Fantasy VII" for PS2, and "Before Crisis: Final Fantasy VII" for

mobile devices.

…

Collapse

Developer:

Square Enix

Genre(s):

Role-Playing

# of players:

1 Player

Cheats:

On GameFAQs

Rating:

T
It plays like a dream, blurring the lines between both genres that it covers much more than any other game. And it looks the part too, as it is easily the best looking handheld game you'll see to date, along with God of War.

The simplicity and the gambling factor of the DMW are what make the gameplay so appealing. It's fast, easy, addictive and perfectly suited to a portable experience.

Issues aside, Crisis Core is a great PSP game -- no question. It honors Final Fantasy VII's legacy. Even the game's music, while not composed by Nobuo Uematsu, is charming and fits the overall style of the world.

Were it not for the plot and the special significance of Final Fantasy VII this game would invariably fail to stand out in a crowded genre, brimming with innovation and quality. Still, this is Final Fantasy, and that still counts for something.

For any fan of the Final Fantasy games, or Japanese RPGs in general, Crisis Core is a must play purely for how well the story is crafted.

If the words "the death of Aeris" don't bring a tear to your eye, then dropping $40 on Crisis Core certainly will.
This game is truly the best thing Square Enix has put out for the Compilation of Final Fantasy VII. It tells a compelling story about Zack

Fair and how he goes from being a 2nd class SOLDIER to being promoted to 1st class. The battle system adds a great dynamic to the game, especially with the block and dodge abilities. I would definitely recommend this to anyone looking for a great Final Fantasy title!

…

Expand

This is an amazing game. The combat system is simple, but it suits the storyline quite well. This is a story driven game with a lot of

cinematic cut scenes. After skipping the pointless side quest missions, this game won't be very long. It's definitely worth the time spent and anyone with access to a PSP won't regret playing through it.

…

Expand

best psp game hands down from graphics to gambling system to shinra misions that were appealing for that game beacuse zack is from soldier 9

out of 10

…

Expand

I give it an 8 because the graphics are pretty good, but the gameplay gets very repetetive. A good thing about this game is you cant control

the DMW. I would not like to control a slot machine while fighting monsters :p

…

Expand

This game has the single worst gameplay ''mechanic'' I have ever seen. I wanted to get my hands on this game for years being a die-hard FFVII

fan, and when I finally did I barely lasted an excruciating hour and before realizing I was bored as hell.
I tried playing several times since then and every time I can manage a single battle before throwing the game away in annoyance. The plot might be the redeeming factor of this game, but at this point I'll just watch the videos on YouTube, it'll save me the atrocious gameplay.
What I'd like to know is who the hell thought the DMW was a good idea? A random slot that takes up half the screen, spins by itself and give you random bonuses at random times with long, unskippable animations!?!?
Maybe I could have accepted it as just a bad idea IF it wasn't so crucial. But that freaking slots control bonuses statuses, limit breaks, summons and....LEVELLING!?!? Indeed, there is no EXP in this game, you randomly level up at random times while playing. So rewarding. /facepalm
Ugh

…

Expand