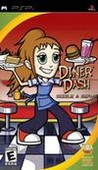 Summary:

No show of superhuman speed goes unappreciated in this fast-paced game of culinary satisfaction. Play as Flo and serve yummy dishes, clean up icky messes, and keep your critic happy to score top reviews in this game that makes you work for your pay! But watch out for screaming babies, long

No show of superhuman speed goes unappreciated in this fast-paced game of culinary satisfaction. Play as Flo and serve yummy dishes, clean up icky messes, and keep your critic happy to score top reviews in this game that makes you work for your pay! But watch out for screaming babies, long wait times, and noisy cell-phone talkers – they may make your other guests unhappy. Only you hold the key to restaurant bliss in this game that makes you the master of your very own restaurant empire. [Eidos Interactive]

…

Collapse
Developer:

PlayFirst, GameLab

Genre(s):

Miscellaneous

,

Puzzle

,

Action

,

Puzzle

,

General

,

Puzzle

,

General

# of players:

2 Online

Cheats:

On GameFAQs

Rating:

E
If you own a Nintendo DS, you might want to buy the DS version instead for the touch screen controls.

Diner Dash is a pretty addictive game and stands as one of those easy to pick and play games for fun. If you want a simple to play game that only requires reflexes and little thinking Diner Dash: Sizzle & Serve may just be for you.

The game's fun and frantic, but it doesn't really offer much than its face-value production.

An iffy buy for Diner Dash fans and not recommended for anyone unfamiliar with the franchise.

If it was part of a larger collection of games we couldn't fault it. But it does seem a little much to ask when it is a stand-alone title, no matter how much fun it is. [May 2007, p.84]

Official Playstation 2 Magazine UK

A simply concept that makes for a fiendishly tricky and addictive game. Sadly let down slightly by some clumsy controls. [May 2007, p.89]

Even though the difficulty ramps up dramatically halfway through Career mode, dedicated gamers will be able to complete the whole thing in a day, if they don't get tired of fighting the poorly designed controls before then.