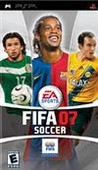 Summary:

FIFA 07 delivers complete authenticity with licenses for all the world's top leagues, including MLS and Mexican 1st Division in North America, and 26 others from over 20 nations. This year, you have the power to shape your club's destiny in the EA Sports Interactive Leagues, a new online mod

e that enables you to pit your club against supporters of your real-world opponents. The online interactive leagues feature the F.A. Premier League, Bundesliga, French League and the Mexican 1st Division. Experience the future of online gaming as you play your games according to the real-world schedule. When they play, you play. Track your team's progress as the aggregate results determine your club's position in the league table. This year, new intelligent A.I. ensures that your 11 men on the pitch make realistic decisions, finding space and passing like professionals. A complete overhaul of the game engine now means that you have to employ real world tactics, make split-second decisions and think like a player in order to win matches. Watch as your players jostle and collide realistically while trying to win balls. Experience the realism of the world's superstars, who come to life with signature moves and authentic playing styles and a more sophisticated shooting mechanic that gives you greater control to produce finesse shots. Plus you now have the ability to apply topspin or backspin to the ball for more creative set-pieces. [Electronic Arts]

…

Expand
Developer:

EA Sports

Genre(s):

Soccer

# of players:

2 Online

Cheats:

On GameFAQs

Rating:

E
It's their season: FIFA 07 is the best portable football sim to date bar none.

There were a handful of drawbacks – most notably the lack of some teams and absence of a team or player creation mode – but overall this is great fun.

While the effort to imitate the best elements of Winning Eleven is obvious, EA does its own fair share of innovation with some great long-pall passing, jostling and PS2 connectivity.

FIFA 07 plays an enjoyable game of soccer, but it feels unfinished in places and isn't as easy to recommend as its home-console counterparts.
Super and fantastic game. The graphic is much better than FIFA 06, the movement of the players are great.

The best soccer game I ever played. Graphics and music are great. I have been playing it everyday to work. Worth the money to buy it!

I have never played such a great game. I have been a tech geek for many years and have played soccer the majority of the 35 years I have been

breathing air... this is the best - most enjoyable and easily playable game that I have purchased. Hot Shots Golf was #1 till now. I have run the battery dead three times since Friday night. Manager mode is very good - an dmakes me want to get the PS2 version since it can sync up - and the mini games/training are neat too. But the game play is so intuitive and you can see everything well enough to make plays happen. I backed it down to Amature mode to get my feet wet. Get this one!

…

Expand

I may not know to much about video games, but i know a lot about soccer and this is like a virtual soccer playing as my favorite stars.