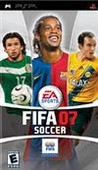 Summary:

FIFA 07 delivers complete authenticity with licenses for all the world's top leagues, including MLS and Mexican 1st Division in North America, and 26 others from over 20 nations. This year, you have the power to shape your club's destiny in the EA Sports Interactive Leagues, a new online

mode that enables you to pit your club against supporters of your real-world opponents. The online interactive leagues feature the F.A. Premier League, Bundesliga, French League and the Mexican 1st Division. Experience the future of online gaming as you play your games according to the real-world schedule. When they play, you play. Track your team's progress as the aggregate results determine your club's position in the league table. This year, new intelligent A.I. ensures that your 11 men on the pitch make realistic decisions, finding space and passing like professionals. A complete overhaul of the game engine now means that you have to employ real world tactics, make split-second decisions and think like a player in order to win matches. Watch as your players jostle and collide realistically while trying to win balls. Experience the realism of the world's superstars, who come to life with signature moves and authentic playing styles and a more sophisticated shooting mechanic that gives you greater control to produce finesse shots. Plus you now have the ability to apply topspin or backspin to the ball for more creative set-pieces. [Electronic Arts]

…

Expand

Developer:

EA Sports

Genre(s):

Soccer

# of players:

2 Online

Cheats:

On GameFAQs

Rating:

E
It's their season: FIFA 07 is the best portable football sim to date bar none.

The PSP version of the game is a faithful adaptation of the console versions, which is to say, very fun.

Hands down, FIFA 07 is one of the best PSP sports titles of the year. Its content can't be beat. The controls are top-notch, bridging the gap between console and handheld gameplay.

Even with the hypersensitive shot controls, we think this year's FIFA may match up evenly with Konami's latest counterpart, due out later this fall (we hear your cries of blasphemy, "Winning Eleven" fanatics - you'll get the chance to prove us wrong).

The most complete football sim in handheld format. It's irrelevant if you already own the PS2 version, though. [Dec 2006, p.105]

It's fair to say that this is probably the best handheld football game available and certainly in the top two or three in anyone's book. However, compared with the home versions, this feels poor, like they knew the PSP version couldn't be as good so they didn't bother trying.