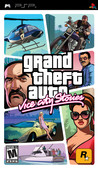 Summary:

Vice City, 1984. Opportunity abounds in a city emerging from the swamps, its growth fueled by the violent power struggle in a lucrative drugs trade. Construction is everywhere as a shining metropolis rises from foundations of crime and betrayal. As a soldier, Vic Vance always protected his

dysfunctional family, his country, himself. One bad decision later and that job is about to get much harder. Kicked out onto the streets of a city between glamour and gluttony, Vic is faced with a stark choice - build an empire or be crushed. [Rockstar Games]

…

Collapse

Developer:

Rockstar Leeds

Genre(s):

Modern

# of players:

1 Player

Cheats:

On GameFAQs

Rating:

M
Not only is this the greatest game on PSP, it also leaves a large percentage of the PS2 back catalogue looking ordinary. But it right now. [Dec 2006, p.76]

While Vice City Stories is just as important a chapter in the GTA saga as any, it's another re-tread of the ageing GTA3 game engine. The missions feel familiar and so do the driving and the save system - they're all remnants of a six-year-old game, after all. Upstart "Scarface" feels fresher...But this is top-drawer entertainment. [Dec 2006, p.68]

Like last year's game, VCS impresses like few other games on the PSP. [Jan. 2007, p.90]

Either way, if you enjoyed most GTA games but felt like Liberty City Stories was just missing a few too many features, then you'll really get into GTA Vice City Stories.

What VCS does to make things a bit more interesting when off the beaten path of the core story missions is to introduce a new gameplay dynamic in the form of an Empire building system.

An improvement over its predecessor in almost every area and as such the new lord of free-roaming gangster simulations – there's nothing to match it on PSP. But the narrative feels a little undercooked.

The pressure of following in the footsteps of one of the console's greatest successes seems to have removed any sense of humour from the game.
This is quite possibly the best game availible on the PSP. It offers a PS2 level experience that surpasses that of the original GTA Vice City.

To start, the game takes pace in the same Vice City seen on PS2 but with several improvements. The story of this game is long and good. The main character, Vic Vance, is a more sympathetic and likeable hero who falls into bad times with zany and unique characters. The game takes the same amount of hard work and time to finish as a regular GTA game and offers all of the same fun a player could want. The gameplay is standard GTA, which isn't a bad thing. Controls are good with a nice auto aim system which is in conjunction with the free-aim feature. Some great additions to the game not seen in the original Vice City or Liberty City Stories include swimming and the ability to fly several differing aerial vehicles such as helicopters and planes. Once you finish the main story there is a ton of fun to be had in free-roam. Hours and days can be spent winning street races, finding popable red balloons and easter eggs, completing rampages, expanding your empire, and just running around Vice City blowing stuff up. If you have friends with this game you can play Ad Hoc multiplayer, but a lack of Infrastructure does disappoint. Overall this is a gaming experience which can last a limitless amount of time and please any fan of the series as well as newcomers.

…

Expand

This Grand Theft Auto Vice can't inch up to the original which was a thrill, But Vice City Stories can't make a perfection. In Vice the

missions are easy and hard and has a leveled difficulty. However, Vice City Stories has it mixed up. On the half part of the game it is easy a part of the start is easy and a part of the start is hard and some time after Mission 37 its hard but at mission 45 its easy. The graphics are good but the sunset bugs when in a mission because the light heads to you. Its generally kind of a equal but mostly a game that needs a few tweaks.

…

Expand

i would not recommend this... the missions are very easy.....the graphics are really bland and it was really poor attempt at open world, the

city is very boring....the game mechanics are dull

…

Expand