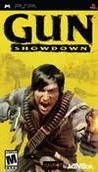 Summary:
GUN Showdown puts players in the role of Colton White, a vengeful gunslinger making his way through the untamed West of the late-1800s where the lines between good and evil are blurred and greed, lust and brutality were a way of life. The game features all of the action contained in the console versions, as well as all-new side missions, quick-play modes, multiplayer modes and gameplay features that are unique to the PSP system. [Activision]
| | |
| --- | --- |
| Rating: | M |
| Official Site: | http://www.gunthegame.com/ageCheck.html |
| Developer: | Neversoft Entertainment, Rebellion |
| Genre(s): | Action Adventure |
| Number of Players: | 1-6 Players |
| ESRB Descriptors: | Blood and Gore, Intense Violence, Sexual Themes, Strong Language, Use of Alcohol |
Designer/Producer/Programmer credits provided by
GameFAQs
.
If you contributed to this game and feel you should be be credited, please read our
FAQ
.