Publisher:

SCEA

Release Date:

Jun 29, 2010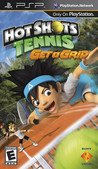 Summary:

Choose from several game modes including the all-new Story Mode, which puts you on a journey to travel the world and help spread the love of tennis. You'll travel to exciting locations to challenge a variety of characters and inspire former tennis greats to rally around the sport and help

you. Interact with other characters to gain knowledge and special items, and even unlock new characters to play with. [SCEA]

…

Expand
Developer:

Clap Hanz

Genre(s):

Tennis

# of players:

1-4

Cheats:

On GameFAQs

Rating:

E
It's impossible not to be charmed by such a little gem. Everbody's Tennis Portable is easily the best portable tennis game out there, striking the perfect balance between accessibility and realism. The European version also gained a significant number of improvements over the Japanese one. It's a must have for all tennis fans.

Any person, regardless he likes tennis or not, will find fun, challenge and charm in this game, with a great system of advancement through the world as if it was a RPG game.

Hot Shots Tennis: Get a Grip offers a marked improvement over the first Hot Shots Tennis game with a much better single-player mode to anchor its feature set.

Everything matters: timing, positioning, footwork, a court's bounciness, our characters favored play style, our opponents favored play style, and even what clothes are worn. Taking that all into consideration to develop effective strategies is what makes the matches so satisfying. [Oct 2010, p.82]

I don't think it has the addictive hook of previous Hot Shots games, but it's still an awesome title in its own right.

Apart from useless dialogues and a sheer amount of out of place JRPG elements, a funny tennis title, and an excellent porting from the Playstation2. Give it a try, you won't regret it.

It's everything you'd expect from the series in terms of gameplay and collectability while still retaining all of the character and charisma you love about the franchise.
The customization in this game is huge and story mode is exciting to play through overall one of my favorite games.

Coming from Hot Shots Golf series, this new game from ClapHanz feels a little less entertaining, though the story layer added to it keps it's

fun factor up. But when it comes to playing the actual matches it feels more of a hit or miss than it is with the golf. It is a harder game to master, and some Golf players might not find a good reason to stay in it.

…

Expand