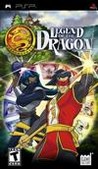 Summary:

Legend of the Dragon is centred on the story of the signs of the ancient Chinese zodiac, which holds great mystical power. Each sign has its own temple, and each temple has its own guardian. The evil Zodiac Master is trying to attain the powers of the twelve guardians as that will make him

Legend of the Dragon is centred on the story of the signs of the ancient Chinese zodiac, which holds great mystical power. Each sign has its own temple, and each temple has its own guardian. The evil Zodiac Master is trying to attain the powers of the twelve guardians as that will make him virtually unstoppable. One thing stands in his way: the Golden Dragon. When the Chinese martial arts student, Ang, is chosen over his twin sister Ling to be the next Golden Dragon destined to fight the Zodiac Master, Ling joins the dark side in a quest for redemption. In the battle between good and evil both heroes and villains have magic wristbands that can transform them into mythical warriors, giving them the precise likeness and superhuman powers of the zodiac creature they represent. Each of the 18 playable characters has a unique fighting technique and, therefore, must be played differently. Characters transform themselves into magical warriors using their wristbands. When transformed they perform different types of magic and cast spells based on their Chinese astrological sign. 4 challenging single-player modes: Quest, Arcade, Survival and Time. 3 exciting multiplayer-modes: Versus, Team Battle and Tag. [The Game Factory]

…

Expand
Developer:

Neko Entertainment

Genre(s):

Action

# of players:

1-2

Cheats:

On GameFAQs

Rating:

T
Those who have played Tekken and Mortal Kombat to death they may find some enjoyment in this fairly simple but engrossing game, which might fulfil your beat 'em up cravings for a little while - just bear in mind that this is most definitely not another Tekken.

Faithful for fans, low on thrills for everyone else. [July 2007, p.84]

With a colorful cast of characters and some inventive fight mechanics Legend of the Dragon isn't a bad game; it just doesn't do much to differentiate itself from the pack.

Whether you're a fan of the cartoon or a fan of fighting games, Legend of the Dragon is a total disappointment.

You'll need the patience of Buddist monk to progress through the archaic Quest mode without consistently resorting to a cheap "Ring Out."

Legend of the Dragon is a disappointment for a fighting game. There is a general lack of anything that stands out to make it worth paying attention to or purchasing.

Legend of the Dragon is a quick thrown together cash-in on the TV series. The combat is easily forgettable as is everything else really. Stay clear of it as much as possible, even a rental is not worth it.