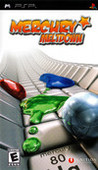 Summary:

Once again taking control of the liquid Mercury 'blob', players must avoid various obstacles and hazards to reach the end goal. The Mercury blob itself has now been given an overhaul and has 4 varying 'states' – Normal, Solid, Fast and Slow. These states allow for larger more complex levels,

s, which in turn mean a greater challenge and more enjoyment to be had for the player. The number of levels has more than doubled – now 160+, and with the newly added feature of Downloadable Content more levels will be made available at a later date. Wireless 2 Player modes have also been an important addition, with 5 sub games each providing a challenge against the computer or a friend. [Ignition Entertainment]

…

Expand
Developer:

Ignition Entertainment

Genre(s):

Puzzle

# of players:

1-2

Cheats:

On GameFAQs

Rating:

E
An endlessly inventive and incredibly addictive game.

Mercury Meltdown is not only a great sequel, but a solid puzzle game. The gameplay is easy to understand, and the difficulty slowly builds so you never feel like you can't handle what's ahead.

Meltdown deserves its own unique place amongst rolling puzzlers and, eventually, to have its timelessness and solidity recognised as a benchmark. [Nov 2006, p.88]

After finishing playing it for this review I promise I'll never play this game again and that speaks volumes, sadly.
This game is awesome....but I really hope that this stuff abt downloadable content later is not a spoof... bcoz if thts true too then the gam

e is flawless as a puzzle game.

…

Expand

Fun! Every Part of the game has it's own unique style, and the amount of hazards and objects has a massive range. The 5 party games is d

efinately a good contribution to the game, especially playing 2 player. I have already passed most of the game, but it is REALLY hard to get 100 percent completion, giving me a super duper challenge!

…

Expand